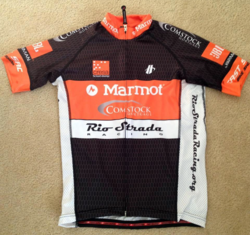 Comstock Mortgage prides itself on its ability to stay competitive within the mortgage and lending industry so it makes sense to partner with the most competitive cycling team in the Sacramento area, Geoff Black, Comstock Mortgage
Sacramento, California (PRWEB) January 10, 2013
California Mortgage Banker and Broker, Comstock Mortgage, announces sponsorship of one of the oldest bicycle racing clubs in the Sacramento area, Rio Strada Racing. Established in 1982, Rio Strada creates awareness of, and support for, an ever growing cycling community in the Sacramento areas by promoting competitive cycling.
It's a well-rounded club with about 85 members who, collectively, place in the top 6 in almost every race in Northern California. Members race Road, Criterium, Cyclocross and Mountain bikes. Notable member and past World Champion Lesley Jensen is a team member and will be at the Rancho Cordova 2 day race event later in May.
Ron Rouse, President of Rio Strada Racing said that "we actively participate in racing events in our great city and throughout Northern California and each year we sponsor a major USA Cycling sanctioned Criterium and Circuit Race". This year they are expecting over 400 riders to compete in the 2 day Golden State Series Event in Rancho Cordova on the 4th & 5th of May, 2013.
Geoff Black, Owner and Senior Mortgage Broker at Comstock, said that "Comstock Mortgage prides itself on its ability to stay competitive within the mortgage and lending industry so it makes sense to partner with the most competitive cycling team in the Sacramento area! – their spirit and attitude in competitive cycling are in alignment with ours as a company and we are proud to be in a position to help and associate ourselves with the Rio Strada racing team".
"The new Racing Jersey's look great and we wish the whole team and all competitors the very best over the Race weekend and throughout the Season", added Mr. Black.
Comstock Mortgage is a California Department of Real Estate (DRE) licensed banker and broker with more than 20 years experience in all areas of home loan financing. California DRE #01390474 DOC #6073484 NMLS #165193
Source: SuperGlobe