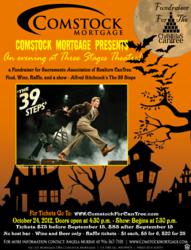 As a local company we have a deep commitment to our surrounding communities." - Troy Bird, Owner & Mortgage Consultant for Comstock Mortgage.
Folsom, CA (PRWEB) August 28, 2012
Comstock Mortgage is sponsoring the Three Stages showing of Alfred Hitchcock's The 39 Steps at Folsom Lake College this coming October.
Tickets are on sale now and proceeds from the event go to support the Sacramento Association of Realtor's Christmas CanTree.
Comstock Mortgage will hold their first annual fundraiser for the event on October 24, 2012.
Comstock is a major supporter of Three Stages in Folsom, and this year, the team had a unique idea to combine appetizers, a raffle, and an Alfred Hitchcock play into one fantastic evening to raise funds for the CanTree Charities!
A "gleefully theatrical riff on the film… fast and frothy…theater at its finest" (New York Times).
This Hitchcock classic features 150 characters played by four actors, often executing their costume and set changes in front of the live audience. A three year run on Broadway and two Tony Awards later, The 39 Steps comes to Three Stages for its first extended run in the capital region.
Comstock is very involved in the local community, and this idea presented a way to support both the Three Stages and the CanTree efforts of the SAR community. The proceeds from the Christmas CanTree fundraisers are donated to the Salvation Army.
For more information about the Christmas CanTree, visit the Sacramento Association of Realtors website.
"As a local company we have a deep commitment to our surrounding communities. Our promise at Comstock Mortgage is not just to provide quality service to our clients. It is to reinvest in the people and places that make our community a special place to live," said Troy Bird, Owner and Mortgage Consultant at Comstock Mortgage.
Comstock Mortgage strives to reinvest in the community through various venues – and are involved with many charitable efforts, such as Sacramento Food Bank's Run to Feed the Hungry, Keller Williams Red Day, and UCP to name a few.
For more information about this fundraiser, please visit http://www.comstockforcantree.com or visit their Facebook Page.
Comstock Mortgage is a licensed CA DRE and DOC licensed Banker and Mortgage Broker.
California DRE #01390474 DOC #6073484 NMLS #165193
Source: SuperGlobe