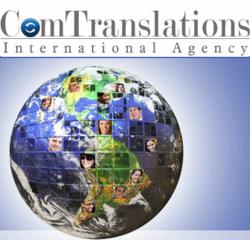 New York, NY (PRWEB UK) 28 March 2012
UEFA 2012 promises to be one of the most enthralling football fiestas of all, with over 1.4 million fans expected to visit the host nations of Poland and Ukraine in June. But while the excitement reaches fever pitch, communication remains a problem – few visitors this summer speak Polish or Ukrainian – leaving many wondering how this can be overcome? Is it possible to break down the language barrier?
ComTranslations will provide professional UEFA 2012 translation and interpretation services in all host cities – Donetsk, Kharkhiv, Kiev and Lviv in the Ukraine, and Warsaw, Wroclaw, Gdansk and Poznan in Poland – to facilitate visitors and fans' experience, as well as to and smooth over any problems not understanding the language may throw up. The new bundle of translation and interpretation discounts is addressed to all UEFA 2012 participants, from fans to officials and sponsors.
UEFA 2012 Translation Services Include:

Professional interpreters on-site in Poland and the Ukraine to ensure your visit runs smoothly
Press conference interpreting
Phone/Skype interpreting
Marketing Translations to reach out to your target audience during UEFA 2012
Certified Legal Translations for all legal matters
Media Translations for UEFA 2012
Tournament Programs, event-related materials and host city operations
Translation and interpretation services available in 140+ languages
To benefit from the UEFA 2012 translations discounts, use the code UEFA2012GO in all your inquiries with ComTranslations.
About ComTranslations:
Established in 2008, ComTranslations is one of the fastest growing providers of translation services in the world today, offering high quality, accurate translations in order to meet its corporate clients' need for reliable communication services across the globe. Based in Madrid, Spain, and with offices in New York, Hong Kong and Delhi, ComTranslations encompasses a community of more than 2,000 certified, professional translators, providing translations in more than 140 languages, backed up by a stringent management process that ensures an unparalleled level of consistency that exceeds industry norms. For more information visit comtranslations.com, or find ComTranslations on Facebook, Google+, Twitter @ComTranslations and LinkedIn.