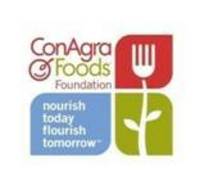 Rock a Little, Feed a Lot
Omaha, Neb. (PRWEB) October 20, 2009
In just 16 days, more than 10,000 Facebook fans from across the country helped ConAgra Foods Foundation make a $100,000 donation to Feeding America to help end child hunger. ConAgra Foods Foundation established a fan page as a first step toward building a community of people passionate about ending hunger and committed $10 per fan for the total $100,000 donation. The fan page (http://www.facebook.com/ConAgraFoodsFoundation) will serve as a destination where individuals committed to the issue can join ConAgra Foods Foundation and others in a national effort to end child hunger.
"It's a credit to all of the new ConAgra Foods Foundation fans that we're able to build a community that can work together to end child hunger in this country," said Chris Kircher, president, ConAgra Foods Foundation. "We're grateful for the fans' support to help reach our goal of contributing $100,000 to Feeding America and look forward to achieving even more."
The ConAgra Foods Foundation established its Facebook fan page on Sept. 30 after it announced a $10 million commitment to Feeding America at the "Rock a Little, Feed a Lot" concert. The $10 million grant is the largest donation ever made to fight child hunger with Feeding America.
Both the grant and the additional donation of $100,000 will help Feeding America meet the needs of the more than 12 million children in America - 1 in 6 - who are at risk of hunger across the country.
Since 1993, ConAgra Foods and its brands have contributed nearly $35 million dollars and more than 230 million pounds of food to support Feeding America programs.
To join ConAgra Foods Foundation in the fight against child hunger - through a donation, by volunteering, or for more information about how to spread the word about good nutrition - visit the ConAgra Foods Foundation Web site at http://www.nourishkidstoday.org or on Facebook at http://www.facebook.com/ConAgraFoodsFoundation.
About ConAgra Foods Foundation
The ConAgra Foods Foundation's Nourish Today, Flourish Tomorrow platform is dedicated to raise awareness of the more than 12 million children in America who are at risk of hunger and don't have enough food to live active, healthful lives, and to aggressively pursue sustainable solutions in the fight against child hunger. The Foundation is committed to building a community of people who are passionate about ensuring that all kids have access to the food and facts they need to eat nutritiously, live balanced lifestyles, and succeed in school and life. ConAgra Foods Foundation invests in national and local partnerships with high-impact, not-for-profit organizations, such as Feeding America, that take an innovative approach to addressing needs in the core areas of hunger and nutrition education. For more information, please visit http://www.nourishkidstoday.org.
About Feeding America (Formerly America's Second Harvest - The Nation's Food Bank Network)
Feeding America provides low-income individuals and families with the fuel to survive and even thrive. As the nation's leading domestic hunger-relief charity, our network members supply food to more than 25 million Americans each year, including 9 million children and 3 million seniors. Serving the entire United States, more than 200 member food banks support 63,000 agencies that address hunger in all of its forms. For more information on how you can fight hunger in your community and across the country, visit http://www.feedingamerica.org.
Contact information:
Stephanie Childs
ConAgra Foods
402-240-6258
# # #