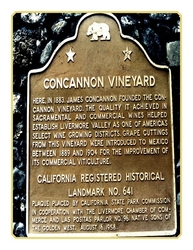 Leading the trend to preserve the past while reinvesting in the future, I am pleased to recognize the Concannon's continued commitment and to mark its historic significance to Livermore and the state
Livermore, CA (Vocus) August 22, 2009
Concannon Vineyard was recognized for its latest preservation efforts, and its California Registered historic landmark #641 commemorated by Native Sons of the Golden West, a charitable organization dedicated to promoting and preserving California history. The same observance and service was performed by the Native Sons 51 years ago on August 16, 1958.
"The reopening of Concannon Vineyard's renovated tasting room marks one of the final stages of a 10-year, $30-million revitalization initiative called 'The Next 125 Years' designed to enhance quality in the vineyards and winery," stated Jim Concannon, third generation vintner. The City of Livermore and the County of Alameda both presented proclamations to the Concannon family in recognition of their leadership in the community and wine industry over the past 125 years.
"As we begin our 126th harvest, we are honored that local, state and community leaders representing organizations that were part of the original decree joined us today to renew my grandfather James Concannon's vision of a world-class estate winery in Livermore," continued Concannon. He introduced family members spanning three generations and noted that Emil Ciguluti, son of the original mason who installed the plaque over 50 years ago was also in attendance. "Leading the trend to preserve the past while reinvesting in the future, I am pleased to recognize the Concannon's continued commitment and to mark its historic significance to Livermore and the state," affirmed Garrett Drummond, renown California historian.
"We've always strived to be a destination site in the Livermore appellation," Concannon said. "My grandfather recognized that we have the soils and climate to produce outstanding wines; for example, we were the first to release a varietally designated Petite Sirah and have been producing remarkable wines for over 125 years."
The dramatically remodeled tasting room has been enlarged (nearly doubling capacity) to make it more comfortable for guests who can also meander outside to sip wine al fresco on the brand new patio while listening to the sounds of the outdoor fountain created from historic Livermore stamped brick. A park-like setting and fresh flowers make this a welcome respite especially on a sunny day.
The winery is at 4590 Tesla Road in Livermore; there is a $5 tasting fee which includes a Concannon wine tasting glass. Reservations are recommended for more than 10 people. Wines exclusive to the tasting room are available to taste and purchase including Concannon Reserve, Heritage and Gatekeeper wines.
A founding California wine family, Concannon celebrates its 126th year as the nation's oldest continuously operating winery, dating to 1883. For four generations, the family has been deeply involved in the Livermore Valley, a region that put California on the world wine map. Concannon stayed open during Prohibition, introduced America's first varietally labeled Petite Sirah in the 1960's, and led with the introduction of Cabernet Sauvignon clones 7 & 8 in Napa. Concannon is committed to sustainable practices throughout its vineyard and winery operations to protect the environmental quality of the region. For more information, http://www.concannonvineyard.com.
# # #