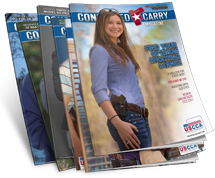 The most important magazine printed for those who carry firearms for personal defense.
(PRWEB) September 16, 2012
Today, Delta Defense, LLC announced the launch of their new website, http://www.ConcealedCarryMagazine.com, which houses new issues of its popular print and electronic magazine, Concealed Carry Magazine.
Publisher Tim Schmidt, who has been offering advice about personal protection for the past eight years through Concealed Carry Magazine, USConcealedCarry.com, and his popular YouTube channel, "Tactical Tim," said that Concealed Carry Magazine is, "The most important magazine printed for those who carry firearms for personal defense."
Subscribers have the option of receiving electronic, print, or a combination of both editions, and the magazine is written by some of the nation's leading experts on self-defense and concealed carry. It provides:

The BEST, unbiased gun and gear reviews.
Life-saving training, tips, and tactics.
Answers to your toughest concealed carry questions...
What you must know to survive the legal aftermath of a shooting...
And much more…
Schmidt also said, "Over 60,000 responsibly armed Americans read every issue," and that in a recent survey, many readers responded that they read every issue "from cover to cover." Plus, the magazine is 100% advertising-free, assuring members have access to completely unbiased gun, gear and course reviews.
Concealed Carry Magazine has been a resource for those interested in protecting themselves with firearms since 2004, and Schmidt said, "That's why we put so much time and energy into creating the best possible experience for every single subscriber. Whether you're new to concealed carry or you've been carrying for over 30 years, I guarantee you're going to find useful, life-saving information in every issue of Concealed Carry Magazine. (And I back that with my 100% Money-Back Bulletproof Guarantee!)"
The "bulletproof guarantee" provides a no-risk subscription, as if subscribers are unsatisfied in any way, they can receive a prompt and courteous refund, with no questions asked. Subscribers are also able to make a rapid decision, as the website tells potential subscribers, "You can download your first issue of this no-holds-barred, politically incorrect publication in just 5 minutes."
For more information or to subscribe to Concealed Carry Magazine, visit https://www.ConcealedCarryMagazine.com.
About Delta Defense:
Delta Defense, LLC is the parent company of the United States Concealed Carry Association (USCCA), which is devoted to armed citizens who have decided to conceal and carry guns, the Home Defense Association of America, and Concealed Carry Magazine. Delta Defense supports and educates the American public with a print magazine, an online membership site, a private members-only concealed carry forum on the web, and a nationally syndicated radio program—Armed American Radio.