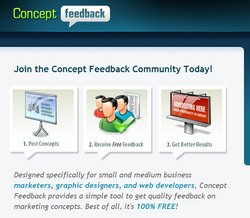 Most small business marketers and freelancers lack the budget and resources it requires to obtain useful feedback on marketing concepts
Oak Park, IL (PRWEB) April 28, 2009
ConceptFeedback.com, a free design review community expected to launch next month, is now offering pre-registration to marketers, designers and developers. Once live, the website will offer a dedicated community to share and review marketing concepts. Reviews will provide quick and actionable insight from qualified peer professionals, aimed at improving post-launch results.
"Most small business marketers and freelancers lack the budget and resources it requires to obtain useful feedback on marketing concepts," says Andrew Follett, CEO and founder of Concept Feedback, LLC. "A third-party point of view can be critical to launching a website, advertising campaign, or concept, that is clear, concise and effective." ConceptFeedback.com seeks to bridge this gap by introducing an interactive community for sharing and reviewing marketing concepts.
Registered users at ConceptFeedback.com will have the ability to post marketing concepts for free, while retaining full rights. Concepts may include, but are not limited to, websites, logos, newsletters, landing pages, advertisements and videos. The community of professionals can then offer constructive feedback on each concept using a proprietary feedback tool. Feedback is automatically collected and archived for the user to help improve the concept and get better results.
Leveraging the power and knowledge of crowds, ConceptFeedback.com will provide users with valuable and unique insight, unavailable anywhere else. Within the first year, Concept Feedback is seeking to enlist over 10,000 active users worldwide, creating a vibrant and effective community of like-minded professionals. In addition to a distinctive professional network, registered users will have the capability to post concepts privately, for secure review by clients, co-workers, and friends.
For additional information on the news that is the subject of this release, contact Andrew Follett. To learn more, or to register free online, visit ConceptFeedback.com.
About Concept Feedback, LLC:
Concept Feedback, LLC was founded by small business marketer Andrew Follett in partnership with Chicago-based web development company DevBridge, Inc.
Contact:
Andrew Follett, President and CEO
Concept Feedback, LLC
651-245-7178
ConceptFeedback.com
###