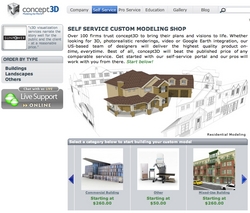 We've worked with concept3D for several key projects and client presentations. Their team is professional, understands our needs and delivers a quality high value product on time, every time
Boulder, Colorado (PRWEB) October 23, 2009
Today, concept3D developed and launched a 'self service' site as an extension of its US-based 3D modeling, rendering and Google Earth™ pro integration services. The 'self service' site allows professionals to place orders for custom 3D models, renderings or Google Earth™ models. Clients simply choose a model type, submit files and credit card information and receive a custom 3D model and/or rendering within 2-4 days.
Key capabilities of the site and working with concept3D:

Pricing is guaranteed to match any comparable, published price
On time delivery-every time - usually turned around within 2 days after order received
Support via phone, chat or email
Worldwide service, based in the United States
Multiple services including: 3D modeling, renderings, Google Earth™ integration, video and more
Instant, simple, flexible ordering process
Several payment types.
"We've worked with concept3D for several key projects and client presentations. Their team is professional, understands our needs and delivers a quality high value product on time, every time," said Dana Bixby of Bixby Architects.
"In addition to our Google Earth™, 3D design and web development services, we've seen an increased demand for rendering services from architectural firms, civil planners, engineers and product manufacturers. While firms are closely watching, or cutting costs there is still a need to create dynamic client presentation materials. We fill that void with an in-house, US-based design team with architectural degrees from top schools," said Oliver Davis, CEO/co-founder at concept3D.
About concept3D Inc.
With over 10,000 Google Earth™ 3D models and renderings created, concept3D is the premier company for custom, location-based content in Google Earth™ and Google Maps. concept3D will build your product in 3D and add it to Google Earth™and Maps to improve product visualization, extend brand presence and drive consumer intent. Customers include universities, theme parks, search engines, resort developers and owners, commercial/residential real estate developers and brokers, building product manufacturers and others. Order your custom model online at http://www.concept3d.com/modelshop/shoppingcart/, contact pro services call 303.668.0982 for more information.
###