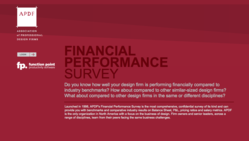 I had the opportunity to attend the APDF Exchange in San Francisco in May to officially launch the survey tool and talk about Function Point.
Vancouver, British Columbia (PRWEB) June 01, 2011
The APDF and fp (functionpoint.com) have been working together for over a year on the re-design of its signature Online Financial Performance Survey.
The survey provides specific benchmarks and goal setting parameters for design firm management not found in any other survey including: Pricing Ratios, Salary Comparisons, Balance Sheet information, and Profit and Loss statements.
Each of these provides a valuable benchmark against which small to medium sized design firms can gauge their business's performance against the industry. Very cool stuff if you're looking to increase your profitability, efficiency and bill-ability (and really, who isn't?)
Key financial indicators are available for the following disciplines:
Product Design and Innovation
Brand Strategy / Communications Design
Digital / Interactive Design
Experience / Environmental Design
The information is further broken down into firm sizes of 1 - 15, 16 - 40, and 41 or more. These disciplines and firm sized match fp's target market and expertise. Function Point's creative agency workflow management software has been designed to give creative firms the traffic management capabilities required to increase profitability, and the survey is an amazing tool that can be used to ensure that your agency is keeping up with the industry.
"I had the opportunity to attend the APDF Exchange in San Francisco last week to officially launch the survey tool and talk a bit about Function Point" stated Tate Lillies, VP of Business Operations for Function Point "what a great opportunity, not only to visit a beautiful city, present and attend some great business management sessions, but also to meet face-to-face with a number of our clients."
Function Point is much more than just a time, task and job management system. The entire fp team understands the business of design, and spends much of their time consulting with clients and working on creating better ways of doing things, and ultimately increasing firm profitability. The APDF and Function Point will be working together for the next three years on the survey.
About Function Point Productivity Software Inc.
Function Point is a world leader in online timesheet, project management and invoicing software for the creative industries. The company was founded in Vancouver, British Columbia, Canada in 1997 and has been building online CRM, time sheet, project management and invoicing software since. The company continues to work hard at creating the perfect business tool and prides itself on its best-in-class customer service. For more information, please visit http://www.functionpoint.com.
Contacts: Function Point Productivity Software Inc. Chris Wilson (President and CEO) or Tate Lillies (Vice President of Business Operations) 604-731-2522 http://www.functionpoint.com
###