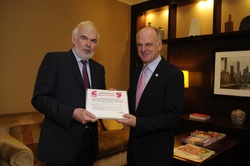 If we are serious about tackling the issue of chronic hunger, there needs to be a funded, concrete international plan
(PRWeb UK) September 22, 2010
At the close of the UN Millennium Development Goals (MDG) Summit, Concern Worldwide CEO Tom Arnold welcomed world leaders' recognition of the importance of fighting hunger, and the role played by poor women farmers in this. However, he expressed disappointment regarding the lack of any concrete action plan to meet the target of halving the number of people going hungry by 2015.
The MDG outcome document, due to be officially released at the end of the summit, contains few commitments about how governments will increase their efforts to fight hunger worldwide. Mr Arnold said:
"We are faced with a huge challenge in the coming five years. If we are serious about tackling the issue of chronic hunger, there needs to be a funded, concrete international plan. Politics must now be translated into meaningful action."
At the summit, Mr Arnold presented over 10,000 signatures to Dr David Nabarro, UN Special Representative on Food Security and Nutrition, urging world leaders to support poor women farmers in their efforts to defeat hunger. The signatures were gathered from supporters worldwide as part of Concern's Women Can't Wait campaign.
Dr Nabarro said:
"I welcome Concern's Women Can't Wait campaign, which has the support of over 10,000 signatories worldwide. Hunger is one of the most important challenges facing our world today, and it is essential that we acknowledge the central role women play as farmers, mothers, and providers of food to their families. All of us have a responsibility to make sure that by 2015, significant progress has been made in ending hunger for good."
Mr Arnold also praised the active and constructive contribution made by the UK Secretary of State for International Development, Mr Andrew Mitchell to the Summit. "I thought Andrew Mitchell brought a welcome forthrightness and clear advocacy to the various debates he engaged in during the week," he said.
ENDS
Contact
For further information, contact Siobhan Sheerin, Concern Worldwide (UK) on 020 7801 1856 or Siobhan(dot)sheerin(at)concern(dot)net
An image of the hand-in is available.
Notes to editors

Concern Worldwide is an international humanitarian organisation dedicated to tackling poverty and suffering in the world's poorest countries. We work in partnership with the very poorest people in these countries, directly enabling them to improve their lives as well as using our knowledge and experience to influence decisions made at a local, national and international level that can significantly reduce extreme poverty.
925 million people are hungry - source UN Food and Agriculture Organisation (FAO) report: The State of Food Insecurity in the World, 2010
60% of the world's hungry are women - source UN
Women produce up to 80% of the food in developing countries - source FAO
###