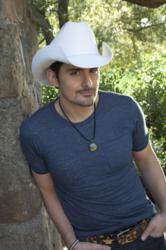 Cincinnati, OH (PRWEB) May 03, 2012
When Brad Paisley rolls into Riverbend Music Center on Sunday, May 20th, he'll bring with him "The Escape" – a fun-filled outdoor plaza area with games, contests, photo ops, food vendors, and performance stage.
Continuing with the tour theme there will be a "Virtual Opry" stage that incorporates a futuristic Grand Ole Opry backdrop and signature mic stands. Performing on the stage starting at 5:00 p.m. will be Kristen Kelly, Jana Kramer and Love and Theft. All three artists will be signing autographs immediately following the performances on the "Virtual Opry" stage.
Other elements of "The Escape" include Virtual Reality World Tour Escape the Lawn Lucky Seats Game where fans can win sponsor prizes and ticket upgrades and Air Force Reserves Flight Commander Challenge with fans throwing airplanes through targets for prizes. Activities throughout "The Escape" plaza area include Air Force Reserves mock jet plane photo station, Mossy Oak Camo-Jam Snapshot Station and Camo Cabanas, slip n slide and inflatables. There will be an "Escape" emcee that will be playing games and passing out prizes to the fans. Sea Ray Boats will host an outdoor boat display. More information on "The Escape" and the "Virtual Opry" stage artists and show times can be found at http://www.Facebook.com/BradPaisleyTour or on twitter @BradPaisleyTour.
Tickets $63.75 and $43.75 reserved Pavilion; $25.00 GA Lawn (plus applicable fees) are on sale now at http://www.Ticketmaster.com, http://www.Riverbend.org, the Riverbend Music Center box office and all Ticketmaster outlets including select Kroger stores. All dates, acts and ticket prices subject to change without notice. All tickets subject to applicable fees and day of show increase. All events rain or shine.
About Kristen Kelly:
Arista Nashville recording artist Kristen Kelly is new on the radio with the irresistible groove of "Ex-Old Man," a true-to-life song she wrote with Paul Overstreet and the first single from her major label debut album, releasing later this year. With influences spanning country, classic rock, and the blues, Kristen describes her music as "a little more grease than polish," pairing powerhouse vocals with lyrics that hit home about real life and real emotion. In its debut week at radio, "Ex-Old Man" was already turning heads, marking the first time in Country Aircheck chart history that a new female artist's debut single topped the most-added list. A Texas native, Kristen co-wrote 7 of the 11 songs on her upcoming album, helmed by nine-time CMA Award-winning producer, Tony Brown. Keep up with Kristen online at http://www.KristenKellyMusic.com and on Twitter @KristenKelly.
About Jana Kramer:
Jana Kramer, the honey-voiced Nashville newcomer, is getting ready to release her self-titled debut album June 5th, 2012 on Elektra Nashville. The album, recorded by multi award-winning producer Scott Hendricks (Brooks & Dunn, Alan Jackson, Blake Shelton), features Kramer's first single, "Why Ya Wanna." The track has been blazing an impressive trail up the charts at a record pace, already No. 22 on Billboard in just 15 weeks. Meanwhile, the Michigan native and former One Tree Hill actress has sold over 330,000 digital singles to date, including almost 150,000 of "Why Ya Wanna." Kramer was recently named CMT's inaugural "Listen Up" artist, a campaign spanning across the channel and online. She also recently made her Grand Ole Opry debut, performing on the famous stage April 13th. For more information, please visit: http://www.JanaKramer.com
About Love and Theft:
Love and Theft is a bit different from the group that scored a Top 10 hit two years ago with "Runaway." But the changes that have affected the group—most notably, signing with RCA Records and downsizing to a duo—have actually brought Love and Theft closer to what it originally set out to be: a band that writes, records and performs honest, soulful country music. "Angel Eyes" is the debut single from Love and Theft's forthcoming self-titled album being released on Tuesday, July 24. "This really feels like a new beginning for us," says Stephen. Eric adds, "We have a new label (RCA), a new producer (Josh Leo), there are two of us now instead of three, but the core of Love and Theft is still the same and our sound is still driven by harmonies. Love and Theft recently received news of their first CMT Music Awards nomination in the Duo Video of the Year category for "Angel Eyes