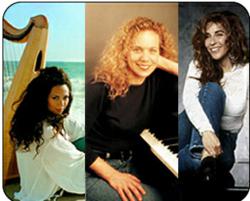 San Francisco, CA (PRWEB) November 08, 2011
Three time Grammy nominee Liz Story, multi-instrumentalist, singer and Grammy nominee Barbara Higbie, and highly original musician and Billboard Charting Celtic Harpist Lisa Lynne promise an exquisite sonic experience.
A native of California, Liz Story began her musical training as a young child, mastering Mozart's Piano Concerto No. 11 by the age of 11. When her family moved to Germany during her teens, Liz added languages, philosophy, and poetry to her studies. On her return to the United States, Liz continued her piano studies at the Juilliard School of Music and enrolled at Hunter College. But after hearing the jazz pianist Bill Evans one night at the Bottom Line in New York City, Liz decided to learn jazz piano and became a student of Sanford Gold, whom Evans recommended. Later, after moving back to Southern California, Liz Story studied at the Dick Grove Music Workshops in Studio City. During her studies, Liz took a job playing piano in a restaurant and was thrust suddenly into improvisations when the piano had no musical strand. Over several months these improvisations developed into compositions. When Windham Hill's Will Ackerman heard a tape of these, he signed her to record her debut album, Solid Colors.
Grammy-nominated Barbara Higbie combines elements of jazz, folk, classical, African, Brazilian and Celtic music to create unique compositions that are lyrical, rhythmically playful and harmonically inventive. Barbara is a multi-instrumentalist, singer-songwriter and championship fiddle player as well as a pianist and composer. Barbara is known for her work as co-founder of the acoustic super-group Montreux. Higbie is a high priestess of collaboration. Barbara Higbie has played with musicians as different as Bonnie Raitt, Kronos Quartet, Milton Nascimento and Spyro Gyra, and has performed on more than 65 albums. Perhaps Higbie's greatest gift is not just her knowledge about musical genres, but her view that live performance "is really a devotional form. Live music can heal you physically, mentally and spiritually."
Lisa Lynne is a multi-instrumentalist and performer who came later to the Windham Hill Record label, but had already gained worldwide recognition for her original music featuring her Celtic Harp. Lisa is a multi-instrumentalist that specializes in Traditional acoustic folk instruments with a modern approach. All of Lisa's recent CD releases have placed in the top 20 of the Billboard music charts (Hopes & Dreams reaching #6) as well as holding top spots in the Celtic, New Age and world music radio airplay charts. After more than a decade of full time touring, recording and performing Lisa has surpassed one million in sales of her recordings. Lisa has been a long time activist in implementing live music in hospital setting. Lisa Lynne was recently chosen by LA Magazine as one of the Top 50 most inspiring women.
This ensemble has toured nationally for the past 10 years for the series that sold over eight million copies. Warmth, humor and stunningly pristine performances abound. They love playing together and the season is the focus.
You can catch this breathtaking show of musicianship at the following locations:
December 15 - Yoshi's in Oakland http://www.yoshis.com/oakland/jazzclub/artist/show/2255
December 16 - Napa Valley Opera House http://www.nvoh.org/index.php/component/content/article/818
December 17 - Salon Concert in San Francisco - http://www.sacredstream.org/component/option,com_events/task,view_detail/agid,264/year,2011/month,12/day,17/Itemid,319/
December 18 - Palo Alto, California. For information Lisa(at)LisaLynne(dot)com
For more information, please visit Lisa Lynne at on the web at http://www.lisalynne.com/.
About Lisa Lynne
Lisa Lynne is a multi-instrumentalist and performer who has gained worldwide recognition for her original harp music featuring the Celtic Harp in both the Bay Area and Los Angeles. Lisa specializes in Traditional acoustic folk instruments and is widely acclaimed for composing memorable and heartwarming melodies that transcend category and genre. Lisa Lynne plays wedding music as well and makes herself available for workshops, wedding music and private events in the Northern and Southern California areas.
###