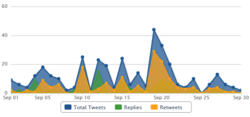 ...the announcement of the tour schedule is likely to result in both a traffic and a price spike as fans rush to get the tickets.
Carlsbad, CA (PRWEB) October 14, 2011
The Los Angeles Times recently reported that Demi Lovato has announced her comeback tour after a year's absence from the music scene. The former Disney star of "Sonny with a Chance" fame went through a major emotional breakdown and left the stage last year during a tour with the Jonas Brothers. She is all set to perform live again with her 10-date concert tour that will kick start in Detroit on November 16th. With her latest hit album "Unbroken" released, she will be touring Houston, Kansas City, New Orleans, Chicago, Foxwoods, Atlanta and St. Louis.
The meltdown survivor Demi Lovato succeeded in sending uproar in the music industry earlier this year with the release of her single "Skyscraper". Peaking at the iTunes and Billboard charts, Demi Lovato is back after a yearlong absence and a dramatic exit from the music industry last year. Evident from her tweet to the fans; "This is It! Hoping to see everyone soon on tour," she is ready to resume her successful career once again.
Lovato's comeback has stirred the tickets market. Anastasia Lyman of Ticketluck.com reported that the news of the singer's upcoming tour has increased the traffic on tickets sites. She said, "Tickets sales soared as soon as the tour dates were released and the demand is increasing." She further reported that online discussions about demi lovato went up when she released her album "Unbroken" and the announcement of the tour schedule is likely to result in both a traffic and a price spike as fans rush to get the tickets.
Regarding Lovato's comeback, Melisa Maerz from Entertainment Weekly said "There are two ways for pop stars to make a survivor album; either be Rihanna and dance and sing till you forget everything, or speak out your problems like Christina Aguilera. Demi Lovato is planning to have both ways". It has also been reported that she is collaborating with the famous names in the industry such as Timberlands, Missy Eliot and Dev. Surely this will be a comeback her fans have long awaited.
About Demi Lovato
Demi Lovato is a teenage singer-songwriter, actress and musician belonging to Dallas, Texas. She has appeared in many Disney films and also starred in "Princess Protection Program" in 2009. She has won numerous awards and nominations, including Teen Choice Awards and People's Choice Awards. She has been nominated for MTV O Music Awards, result of which is still pending. You can get tickets to Demi Lovato Houston, and tickets to Demi Lovato at Kansas City from us. Tickets for Demi Lovato in New Orleans are also available with us.
###