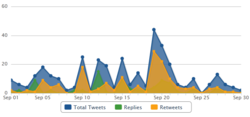 As soon as she announced her tour, the internet chatter exploded with people talking about her all the time
Carlsbad, California (PRWEB) October 27, 2011
Ever since the start of her music career in 2008, Demi Lovato has been in the headlines as one of the most promising new acts. Acclaimed for her fresh voice, Demi Lovato's upcoming mini tour will be an amazing occasion for the fans to see her perform live and unplugged. Mtv states that there are 10 U.S. tour dates released so far, which will kick off from November 16, 2011.
This tour has come after quite a while and we may not see more of her onstage after this in the near future. "I'm looking forward to kind of just finding out what's next. I don't know what's next — if it's a movie, if it's touring, I don't know," Lovato said. The tour consists of shows in jovial states such as Detroit, Pennsylvania, Missouri, Louisiana, Georgia, Illinois and two gigs in her home-state of Texas. Tickets to these events have been selling like anything since October 14 and many gigs are soon to go "sold-out".
With the third studio album recently released, the fans will surely be entertained to some of her latest work. In all this frenzy, Anastasia Lyman, TicketNest.com representative, is confident that the concerts will be jam packed in no time. "The tour comes out as a perfect publicity move by Lovato to promote her recent album release. People are already talking about her with every passing day. As soon as she announced her tour, the internet chatter exploded with people talking about her all the time!" Lyman said.
About Demi Lovato
Demetria Devonne Lovato, more commonly known by her stage name, "Demi Lovato", is a 19 year old American pop artist. Starting off as an actress for TV shows such as Barney and Friends and Disney's hit sitcom, Sonny with Chance, Lovato got her breakthrough in mainstream music with the debut album titled, Don't Forget. This album earned her Gold certification, and has sold over 500,000 copies to date. Her third album titled, Unbroken was released about a month back and the mini tour in November and December will be her first nationwide tour since the Summer Tour in 2009. Tour spots include Demi Lovato in Atlanta. Lovato in texas will also be a big hit.
###