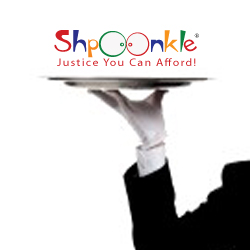 Shpoonkle is providing free services and legal information to consumers.
Miami, FL (PRWEB) April 11, 2012
Doctors' house calls are making a comeback, and "eLawyering" is providing a personalized approach for legal services. Shpoonkle is responding to this demand, and expanding its services to facilitate virtual Legal "House Calls." It brings back memories of a time when the economy was better, and people's outlook seemed brighter. Many are calling some of these physicians "concierge" practitioners. Concierge medicine (also known as direct care) is a relationship between a patient and a primary care physician that used to be the norm. Ironically, the more we progress technologically, the more we seem to need to close the gap of interaction for all service providers. There is a sentiment that concierge medicine is not the solution to a seriously flawed healthcare system, but is a symptomatic of lack of emphasis on patient and desire to control costs. Legal services are following suit with a heightened awareness of cost, personalized service, and increased accessibility of the internet.
In various ways, allowing Doctors to come to a patient and address their needs in their home accomplishes many complimentary features to that of the Legal Professionals servicing clients in their homes via technology. According to the ABA, the next five years will bring significant changes for lawyering via the expansion of "eLawyering." Per the ABA article "The Next Five Years – Predictions for the Future of"eLawyering," emerging networks of nationally branded networks will deliver services online.
Shpoonkle is providing free services and legal information to consumers, and is allowing attorneys, the opportunity to provide clients a concierge level of service for legal issues at an affordable price. The ability for attorneys to have virtual firms and consequently cut overhead costs can relate to heightened level of service for the consumer and at lower rates. The percentage of attorneys leveraging a virtual law office/practice as a means to interact with clients via the internet is steadily increasing. The means of delivery of services is enhanced via technology, but does not negate the professionalism of those utilizing these tools.
Leveraging Shpoonkle services allows legal professionals to maximize on time, space, money, and personalization to the consumer's needs. Legal professionals are changing their routines and embracing new methods to be successful in a highly competitive economy and burdensome economy.
In the current complex economy, there is a new trend to lessen the intermediaries in the consumer chain and service provider. The fear that the elimination of the lawyer in the traditional form will not only reduce cost but quality is unfounded. It is a fear generated mostly on greed than reality. Lawyers are quickly adapting to "eLawyering" models as it provides more personalized and friendlier service to their client, is more productive, and saves money not only to the client but to the lawyer.
Consumers are finding this service and trend to be highly productive and cost effective. Instead of the drudgery of going from lawyer to lawyer for consultations, consumers now can privately and efficiently find attorneys online from the comfort of their home. Many potential clients feel intimidated by the process of finding an attorney. Shpoonkle alleviates this situation, and empowers consumers to find attorneys anyplace, anytime, and at the price they can afford. Personalized service does not mean less qualified service providers, it is just another method for clients and lawyers to successful connect.
Shpoonkle has reached its first birthday, and despite naysayers and critics, is succeeding and still gaining momentum. The strong international network of validated attorneys meet the current demands of a cost conscious consumer, and utilizes technology to bring legal services home when and where people need it most.
Visit Shpoonkle today if you need legal help and want personalized service from the comfort of your computer screen.