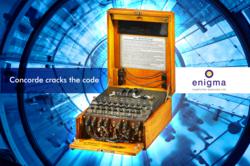 Our customers were demanding new technologies and a broader skills set - becoming part of Concorde IT Group satisfies and exceeds that demand - Jake Jakobson Director, Enigma Computer Services
Leeds, West Yorkshire (PRWEB UK) 1 March 2012
Concorde IT Group has today announced that it has acquired the business of Kettering based Enigma Computer Services for an undisclosed sum. This adds over £500,000 in revenues to the existing £10m turnover of Concorde. All the directors and staff of Enigma have transferred to Concorde.
Colin Meakin, CEO of Concorde says, "We are delighted to have acquired this business, the mix of service contracts and consultancy perfectly fits our business model. The location provides us with great access to the Midlands and South East, and complements our existing locations in the North East, the North West and the South. Our consultancy team has also been strengthened by the addition of 5 highly skilled and qualified MCSE's and MCP's."
Commenting on his reasons for joining Concorde, Jake Jakobson, Enigma's Director stated, "Our customers were demanding new technologies and skills that we were simply unable to fulfill. Concorde's expertise in key technologies such as server and storage virtualisation and hosting will be very welcomed by our customers. Also the 24*7 Service Desk means that support is no longer restricted to office hours - we are very excited about what this all means for the future".
Colin Meakin adds "Our business saw impressive growth in 2011 and we took the time to strengthen our management team and systems to cope with more acquisitions. The acquisition of Enigma is the first one in 2012 - we are already examining a number of other opportunities".
Company Background:
Concorde IT Group is a subsidiary of Concorde Excel Holdings Limited, and 2012 marks 27 years of business success.
Concorde Excel Holdings has continued to increase its UK presence through a series of mergers and acquisitions. In 2009, the company acquired IT solutions provider Phase CRS Limited and in 2010, Control Key, a North West based IT security specialist and RW Communications with locations in the North West and the South. Concorde aims to continue to grow its business both organically and through further strategic acquisitions.
Concorde was acquired by a management team led by Colin Meakin, former Group Sales Director of ICM Computer Group plc. The formidable management team is chaired by Barry Roberts, former CEO of ICM. Other members of the team are Neil Roberts, Matthew Wood and Erick Mackay, who all held senior positions at ICM. Kieron Sykes, formerly of Control Key is the Group Technical Director and Kieran Trimmer is the Group Financial Director.
Concorde has logistics centres throughout the UK - the Head Office is in Leeds, West Yorkshire, the North West area office is in Blackburn, Lancashire and the Southern office is in Hayes, Middlesex, the new Kettering office covers the East Midlands and the South East.
Concorde has strategic relationships with key vendors such as NetApp, Cisco, VMware, Microsoft, HP, IBM and Dell. Concorde offers a full portfolio of IT Support, break fix maintenance, managed services,IT Consultancy, 24* 7 support, product lifecycle management, storage, unified communications, virtualisation, networking, data centre and private cloud hosting services.
###