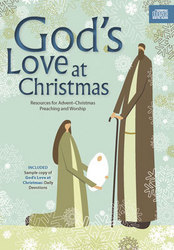 in slavery, sin death, and darkness
St. Louis, MO (Vocus) November 6, 2010
Keeping Christ front and center can be difficult during this time of year. Finding Jesus in our everyday lives can be like searching for Waldo in a cloud full of shopping, cooking, hustle and bustle.
For this reason, Concordia Publishing House released God's Love at Christmas, a complete Advent-Christmas Preaching and Worship resource. Pastors and Church leaders can utilize this program to get the entire congregation in one accord this season, focusing on Christ and sharing His love at Christmas.
The theme for this year's preaching and worship resource comes from the well loved children's Christmas song "God Loves Me Dearly." Originally written in 1852 by a pastor who was working with homeless and disadvantaged children, this hymn delights in the personal nature of our heavenly Father's love—"He loves even me." Because of our inherited sin and our own sinful choices, we were "in slavery, sin death, and darkness," but "God's love was working to make me free."
God's Love at Christmas includes 4 or more weeks' worth of sermon resources, children's messages, Bible studies, worship resources, and additional psalms and music. Order the God's Love at Christmas Daily Devotions as gifts for participants at only $.99 each when you purchase 25 or more and use code YSA at checkout. God's Love at Christmas Bulletins are also available to keep the look and feel of the program throughout the season.
Don't forget about the little ones. CPH offers a God's Love at Christmas Children's Program CD and The Story of Christmas and God's Love at Christmas Mini-Book for giveaways. Save when you purchase 10 or more mini-books with the special $.99 pricing when you use code YSA at checkout.
Visit cph.org or call 1.800.325.3040 to order God's Love at Christmas.
*Review copies (subject to publisher approval) available by request.
Resource Links:
Social Media Release: pitch.pe/97256
Concordia Publishing House: cph.org
CPH Media Room: pitchengine.com/newsroom.php?id=9296
Concordia Publishing House is a not-for-profit publishing company and the publisher of The Lutheran Church—Missouri Synod. The company offers more than 8,000 products for use in Christian congregations, schools, and homes. Visit CPH on the Web at cph.org.
Media Resources:
View this or previous releases or download via Word or PDF on Scribd http://www.scribd.com/cphnews
# # #