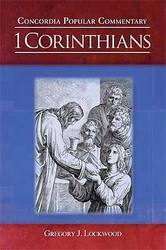 This commentary will take you deeper into the understanding of how to love God and your neighbor, as well as how to receive God's gifts on His terms. It will truly help Christians grow in the faith
St. Louis, MO (Vocus) November 5, 2010
Sin invades our lives, making simple things complicated and frustrating. Paul addresses contemporary Christian issues like factions and infighting, sexual sins and prideful "tolerance," marriage and divorce, chastity, the role of women, closed Communion, spiritual gifts, speaking in tongues, and the resurrection of the dead in 1 Corinthians.
Today's world holds similar challenges to those that were present in Corinth during Paul's time. To help Christians understand this book of the Bible in its entirety, Concordia Publishing House released Concordia Popular Commentary: 1 Corinthians written by Dr. Gregory J. Lockwood.
Dr. Lockwood is a professor at Australian Lutheran College in Adelaide. He has previously served as a missionary in Papua New Guinea, as a parish pastor, and as a professor at Concordia Theological Seminary in Fort Wayne, Indiana.
"This commentary will take you deeper into the understanding of how to love God and your neighbor, as well as how to receive God's gifts on His terms. It will truly help Christians grow in the faith," commentary editor Charles Schaum said.
Concordia Popular Commentaries are considered user-friendly editions of the Concordia Commentary academic versions. They include all of the original translation and commentary but exclude technical notes, original biblical languages, and terminology normal for an academic edition.
Visit cph.org or call 1.800.325.3040 to order Concordia Popular Commentary: 1 Corinthians.
Endorsements:
The author's treatment is quite exhaustive. A number of worthy items include Christian maturity, homosexuality, headship, unity in apostolic doctrine, the Lord's Supper, the Church Growth Movement, and tongues.
David P Kuske / Emeritus Professor / Wisconsin Lutheran Seminary
Lockwood's commentary has much to offer as he regularly relates texts in 1 Corinthians to contemporary issues in the church.
Charles A. Wanamaker / UC San Diego, La Jolla, California
*Review copies (subject to publisher approval) available by request.
Resource Links:
Social Media Release: http://pitch.pe/99432
Concordia Publishing House: http://www.cph.org
CPH Media Room: http://www.pitchengine.com/newsroom.php?id=9296
Concordia Publishing House is a not-for-profit publishing company and the publisher of The Lutheran Church—Missouri Synod. The company offers more than 8,000 products for use in Christian congregations, schools, and homes. Visit CPH on the Web at http://www.cph.org.
Media Resources:
View this or previous releases or download via Word or PDF on Scribd http://www.scribd.com/cphnews
CONTACT:
Cartiay McCoy, Corporate Communications
Phone: 314.268.1290
e-mail: cartiay(dot)mccoy(at)cph(dot)org
# # #