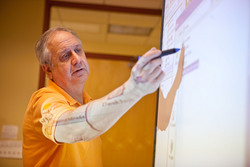 Teachers are looking for ways to use technology in the classroom
Chicago, IL (Vocus) September 26, 2009
Tapping into teacher demand for Web 2.0 know-how in the classroom, Concordia University Chicago has launched a new master of arts program in educational technology.
Enrolling its first 11 students last March, Concordia-Chicago hoped to grow enrollment to 60 this fall. Instead, more than 225 have already enrolled.
The program trains teachers on the latest instructional technology--classroom applications for Blackboard, blogs, wikis, podcasting, SMART boards, Web conferencing, iPods and more. Courses also explore social media Web sites such as Twitter and Facebook, and tools such as Skype that enable virtual parent-teacher conferences, for example.
"Teachers are looking for ways to use technology in the classroom," said Michael Sukowski, M.Ed., Concordia-Chicago assistant professor and executive director of instructional design and technology. "The goal is to be a critical technology user: to know the technology available, know when to use it and know when it's best to use the chalkboard instead."
Concordia, which graduates the largest number of public school administrators and teachers among all Illinois private colleges, crafted the new program after identifying the demand among Chicago-area K-12 teachers.
The program is designed as "blended learning"--an increasingly popular type of instruction that combines online learning with periodic classroom instruction. It's also offered in the "cohort" format for which Concordia has become known. A cohort is a group of students who usually start and end a degree program together, taking courses in sequence and typically building rapport and professional relationships along the way.
The new department and educational technology degree are part of Concordia's College of Graduate and Innovative Programs, which has attracted graduate enrollment growth of more than 300 percent since 2004.
The College welcomes yet another record enrollment this fall. University officials attribute the latest enrollment jump to fast-growing interest in the educational technology program and online degrees, alongside ongoing growth in Concordia's recognized education programs.
"Since our first online program a year ago, we have launched five more at the master's and doctoral levels," said Tom Jandris, Ph.D., dean of the College of Graduate and Innovative Programs. "They have become our fastest-growing offerings."
For more information about the master of arts in educational technology and other graduate degree offerings at Concordia University Chicago, contact the Office of Graduate Admission and Enrollment Services at 708/209-4093.
About Concordia University Chicago
Founded in 1864, Concordia University Chicago is a comprehensive liberal arts-based Christian university in the Lutheran tradition. Through its College of Arts and Sciences, College of Business, College of Education, and College of Graduate and Innovative Programs, Concordia offers more than 60 areas of study in small classes taught by professors who are passionate about teaching and student success.
Under the leadership of President John F. Johnson, Concordia equips men and women to serve and lead with integrity, creativity, competence and compassion in a diverse, interconnected and increasingly urbanized church and world. More than 4,300 full-time undergraduate and graduate students are enrolled at Concordia, located 10 miles west of downtown Chicago in River Forest. Learn more at http://www.cuchicago.edu.
Contact:
Kim McCullough,
Director of Community & Media Relations
Concordia University Chicago
708-209-3122
# # #