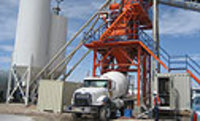 Should be a welcome change to anyone needing a concrete batching plant.
Greenland, NH (PRWEB) October 7, 2009
With the advanced MobilMat concrete batching plant, Advanced Concrete Technologies has changed the game. While concrete suppliers and those in the construction industry are constantly forced to worry about budgets and delays, the Greenland, New Hampshire company's newest introduction to the industry promises to deliver a level of certainty president Max Hoene says, "Should be a welcome change to anyone needing a concrete batching plant."
Hoene explains, "With our MobilMat concrete batching plant, you can just about do away with any of the unexpected delays or unanticipated costs that we so often see when it comes to any industry involved in construction" Mr. Hoene continued, "For our customers, the start-up date and the project budget are important milestones, and our new concrete batching plants will help our customers stay on schedule and on budget."
The MobilMat concrete batch plant arrives, factory preassembled, pre-wired, and factory tested before it's shipped. As Mr. Hoene explains, this allows for a set-up and start-up time that's "unheard of" when it comes to beginning a concrete mixing plant operation. Additionally, the MobilMat leads the industry in batching precision of all mix components and is "highly customizable, with automated controls and attachments for mixing, automatic cleaning and quality control."
At the very simplest level, Mr. Hoene explains that Advanced Concrete Technologies' concrete batching plants offer one thing. "They offer no surprises, in the form of set up, staying within budget, and staying on schedule - and any industry can appreciate that."
Advanced Concrete Technologies is the American division of Wiggert Co and Wurschum. ACT's precast concrete products industry experience is based upon over 40 years of experience, having more than 4,000 concrete batch plant installations worldwide. For more information, visit http://www.concretebiz.com or call 603.431.5661
###