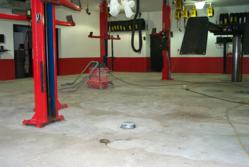 Chicago, IL (PRWEB) April 04, 2012
The new online American Institute of Architects (AIA) – Approved continuing education course produced by Crawford Laboratories, Inc., manufacturer of Florock® industrial flooring, emphasizes the many eco-friendly features of Division 9 resinous floor coatings. The one hour class with accompanying test entitled, "Resinous Flooring: Everything You Need to Know, Without Reading the Manual", is conveniently available online, 24/7, to all registrants at no charge.
AIA members who supply their subscriber number receive one AIA Health, Safety & Welfare, as well as one Sustainable Design learning unit (1 LU|HSW|SD). All AIA architects must earn an annual quota of learning units in order to maintain their membership in the organization.
The new online CE Course is being well-received by design professionals as it provides a useful, no-nonsense overview of resinous flooring systems. Relevant factors influencing the health and safety of the facility and surrounding environment, as well as how industrial floor coatings can help a project qualify for LEED certification, are discussed. Case studies demonstrate how today's resinous floors meet the most stringent environmental regulations, and offer greater durability, performance and aesthetics than ever before.
Best of all, in contrast to the traditional AIA "lunch n' learn" sessions requiring participants to sacrifice precious office time, the online Florock CE Course enables architects to earn their AIA learning units wherever and whenever their busy schedules allow.
The AIA-Approved CE course, "Resinous Flooring: Everything You Need to Know, Without Reading the Manual", can be accessed anytime on the Florock website at: http://www.florock.net/continuing-education.htm. Local Florock representatives are available nationwide to assist design professionals in selecting the best industrial flooring for their unique applications. Call 1-800-FLOROCK (1-800-356-7625) to find a representative near you.
ABOUT FLOROCK®, MANUFACTURED IN THE U.S.A. BY CRAWFORD LABORATORIES, INC. -- Serving facilities nationwide, Crawford Laboratories, Inc., is a respected leader in the manufacture, research and development, and installation of solutions-oriented concrete floor coatings and toppings. Independently owned for 60 years and located in Chicago, Illinois, Crawford Laboratories was founded on the principles of cutting-edge technology, innovation and impeccable integrity.