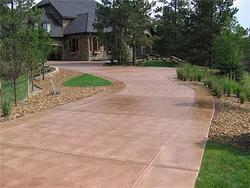 Calimesa, CA (Vocus) October 29, 2010
Structurally, concrete driveways can last for decades, but esthetically, they could be due for a face-lift after just a few years. A new article, published by ConcreteNetwork.com, has compiled a list of the numerous decorative concrete options available for upcoming fall driveway renovation projects, along with their associated costs. Concrete driveway cost can be broken down into three categories: basic, mid-range and advanced depending the techniques used.
At first glance, concrete driveways offer the luxury of a long-lasting surface that is durable and wear-resistant in the harshest environments, along with little required maintenance. Digging deeper, concrete driveways offer design and customization options allowing for one-of-a-kind creations.
At $8 to $12 per square foot, the basic level concrete driveway cost is defined as an economical upgrade. These upgrades often include a single coloring method, a textured finish and more. At the mid-range level, driveways often include use of two or more colors, engraving techniques and possibly a border. At $18 and up per square foot, driveways incorporating hand-applied stains, borders, multiple patterns and more intricate techniques make up the advanced level.
Updating an existing concrete driveway doesn't have to be expensive, but it can sure look the part. Explore more on the costs and options available with decorative concrete, along with design ideas for concrete driveways on ConcreteNetwork.com.
Established in 1999, ConcreteNetwork.com educates consumers, builders, and contractors on popular decorative techniques and applications. These include stamped concrete, stained concrete, concrete countertops, polished concrete, and much more. Over 11 million people visited ConcreteNetwork.com in 2009 to research, get ideas and to find a contractor.
The site excels at connecting buyers with local concrete contractors through its Find a Contractor service. The service provides visitors with a list of decorative concrete contractors throughout the U.S. and Canada, and is fully searchable by more than 20 types of decorative concrete work in over 200 regional areas throughout North America.
Article photo courtesy of Decorative Coatings and Concrete Company in Aurora, CO. Attached photo courtesy of Concepts In Concrete Construction Inc in San Diego, CA.
# # #