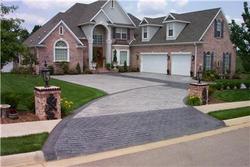 Calimesa, CA (Vocus) November 18, 2010
Trends show plain, grey concrete driveways are becoming a thing of the past. Today, homeowners have several paving options for creating one-of-a-kind driveways. ConcreteNetwork.com has created a handy comparison chart outlining concrete driveway cost compared to other materials, along with comparisons on pattern choices, color choices, longevity and performance, speed of installation and more.
The decorative concrete products of today, including stamps and stains, have brought concrete to the top of homeowners' lists when considering what material to choose for their driveway. Concrete offers a number of advantages that other paving materials, like natural stone and precast pavers can't match, particularly when it comes to design versatility.
When it comes to cost, the chart shows concrete driveway installations to be competitively priced against the other paving materials. However, the benefits associated with concrete installations quickly outweigh the competition when it comes to available patterns and colors, longevity and performance, ease of maintenance and more.
For more information on concrete driveways, and a full version of the driveway materials comparison chart, visit ConcreteNetwork.com.
Established in 1999, ConcreteNetwork.com educates consumers, builders, and contractors on popular decorative techniques and applications. These include stamped concrete, stained concrete, concrete countertops, polished concrete, and much more. Over 11 million people visited ConcreteNetwork.com in 2009 to research, get ideas and to find a contractor.
The site excels at connecting buyers with local concrete contractors through its Find a Contractor service. The service provides visitors with a list of decorative concrete contractors throughout the U.S. and Canada, and is fully searchable by more than 20 types of decorative concrete work in over 200 regional areas throughout North America.
Article photo courtesy of Ozark Patterned Concrete Inc in Lowell, AR. Attached photo courtesy of Artisticrete LLC in Noblesville, IN.
# # #