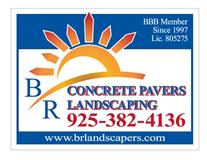 At BR Landscapers we know that there are few expenditures that carry the long lasting value of property upgrades realized from quality hardscape and natural landscaping
Tracy, CA (PRWEB) October 19, 2011
Concrete pavers BR Landscapers, serving the East Bay and San Jose, is providing advice to homeowners in choosing the right contractors for their landscaping project. With thousands of contractors doing business in the East Bay, there are some who are not licensed with the state contractor's board. Using unlicensed contractors can result in a homeowner having no recourse for a job poorly done or mistakes that result in the need for additional expense to repair or fix it. That is why it is important to hire an experienced and licensed contractor with a track record of delivering professional work to the homeowner's satisfaction.
"I am sure you would agree that in these uncertain economic times most of us seek the greatest value for every dollar we spend. At BR Landscapers we know that there are few expenditures that carry the long lasting value of property upgrades realized from quality hardscape and natural landscaping. My company offers a full-service commitment from design to completion. We are experts in colored and stamped concrete design, pavers and stone. We are experts with 15 years of experience in constructing personal courtyards, fountains, garden arbors, outdoor kitchens, driveways, retaining walls, and sitting areas with a record of 100 percent customer satisfaction," said Brian Ramirez of BR Landscapers.
First of all, homeowners need to check if the contractor is licensed by asking for their license number and checking with the Contractor's Board. This way, they can be certain that the contractor has the appropriate credentials for the job. Also, the contractors need to be insured, carrying a minimum of $1 Million General Liability and Worker's Compensation insurance to assure that homeowners are not exposed for any work done on their premises. And to be certain of the contractor's expertise in the field of work, homeowners should check their references, as well as if they belong to the Better Business Bureau.
Lastly, homeowners may ask if the contractor has a website showing their work and information about their company. Although this is not a measure of the contractor's expertise, it allows homeowners to review the contractor's work and become more comfortable with their experience.
How would BR Landscapers stack up against this checklist for finding the right contractor? They have been in the East Bay since 1997 and have California license number 805275. They carry full coverage insurance and provide a copy of that insurance at every job as well as a full picture portfolio of every job completed since 1997.
BR Landscapers has been a member of the Better Business Bureau since 1997 and carries an A+ rating, the highest rating possible. And to check for their completed works, homeowners can visit BR Landscapers' own website. Having all these requirements for being a well-suited contractor, BR Landscapers guarantees 100 percent customer satisfaction. With thousands of satisfied customers and their recommendations and referrals, every homeowner can be confident in hiring BR Landscapers as the company to upgrade their landscape.
"Don't be fooled by slick sales pitches that claim to offer you the lowest prices. BR landscapers will meet or better any licensed contractor's bid. This assures that you are getting the best in the business with no worry about overspending on your project. We honor our estimates and, unless the scope of work changes dramatically, we lock in our commitment," said Ramirez.
For more information about BR Landscapers, call 925-382-4136 or visit http://www.brlandscapers.com.
About BR Landscapers
"At BR Landscapers, we pride ourselves on adding to the beauty of nature with designs that enhance it. We are experts in building colored and stamped concrete, concrete pavers, patio pavers, garden arbors, stone work, fences, garden sheds as well as installing automatic irrigation systems and drips at competitive prices. We pride ourselves on cementing relationships, one customer at a time." added Ramirez.
###