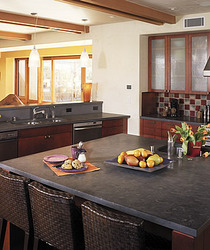 Calimesa, CA (Vocus) December 18, 2009
Concrete countertops are in popular demand across the Untied States. Recently updated website, Concrete-Countertops.org, is a great resource for newcomers wanting to explore the many benefits of building countertops with concrete. The site covers articles and videos detailing A-Z information on concrete countertops including design ideas, how concrete countertops are made, how they perform and their eco benefits.
Concrete countertops offer a host of benefits and advantages when compared to other more popular countertop materials. The site's extensive articles cover cleaning and maintenance tips, costs, available color and edge options, including a comprehensive comparison chart and much more.
Also covering topics like performance and durability, and the process by which these counters are made, the site offers detailed information the eco-friendly benefits that come with building concrete countertops.
To further explore the possibilities available with concrete countertops the site offers concrete countertop design videos presented by concrete countertop expert, Fu-Tung Cheng. Along with these videos, is an extensive online countertop photo gallery to gain inspiration from.
It is because of concrete's new found popularity that Concrete-Countertops.org was created, to guide homeowners and provide them with the proper tools and knowledge to create a custom concrete countertop that is an extension of an already existing living space. One of concrete's most alluring features is that it is an artisan's craft.
Concrete-Countertops.org also brings together consumers and local concrete contractors by pointing to a nationwide contractor directory. Consumers can use the site to learn about concrete countertops, choose photos of designs they like, and then access the directory for contact information for concrete countertop contractors in their local area.
Read more about concrete countertops at Concrete-Countertops.org.
Article photo courtesy of Buddy Rhodes Concrete Studios in San Francisco, CA. Attached photo courtesy of Stone Passion in Salt Lake City, UT.
###