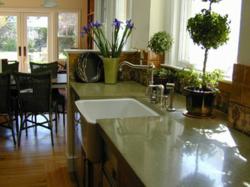 Because of its low impact on the environment, concrete is one of the greenest countertop materials you can use.
Calimesa, CA (PRWEB) June 07, 2013
Seven new tips from ConcreteNetwork.com outline simple steps for creating greener, more sustainable concrete countertops for kitchens, bathrooms, outdoor kitchens and office spaces. At a time when green building is of utmost importance, these tips educate and guide designers and consumers on the various factors that contribute to making concrete countertops green.
According to The Concrete Network, "Because of its low impact on the environment, concrete is one of the greenest countertop materials you can use." Because concrete is created from sand, rock and cement, it depends less on nonrenewable resources, like granite and marble, and unlike engineered quartz materials, does not contain synthetic resin binders.
While not 100% eco-friendly, Concrete Network outlines seven easy tips on creating the greenest concrete countertops possible. Tips include choosing an eco-friendly concrete mix, along with information on how to use materials from local sources, and using a green construction process. These steps set the foundation for creating a sustainable countertop product.
Also covered are creative uses of recycled decorative accents and design tips for functionality. Explore the sustainable benefits of building GFRC (glass-fiber reinforced concrete) countertops. And lastly, get information on using nontoxic form-release agents and sealers, a very important step to keeping the countertop as green as possible.
For more information on how to build sustainable concrete countertops, and for countertop design ideas, visit ConcreteNetwork.com.
Photos courtesy of Flying Turtle Cast Concrete in Modesto, CA.
About ConcreteNetwork.com
Established in 1999, ConcreteNetwork.com educates consumers, builders, and contractors on popular decorative techniques and applications. These include stamped concrete, stained concrete, concrete countertops, polished concrete, and much more. Over 14 million people visited The Concrete Network website in 2012 to research, get ideas, find concrete products, and to find a contractor.
The site connects buyers with local concrete contractors through its Find a Contractor service throughout the U.S. and Canada, and is fully searchable by more than 20 types of decorative concrete work. Through its Find Concrete Products service, the site provides visitors with a list of decorative concrete manufacturers throughout the U.S. and Canada, as well as local decorative concrete supply stores.