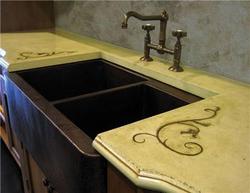 Calimesa, CA (Vocus) September 25, 2009
Concrete countertops have quickly become a viable option for replacing old counters in homes and offices. ConcreteNetwork.com has made the process of deciding on a countertop design easy with its guide to 17 ways homeowners and designers can express their personality and uniqueness when creating a concrete countertop. Covering a range of topics including color, edge details, backsplashes and more, this handy slideshow is available online.
Concrete countertops can add personality to any kitchen, bath, restaurant, and office space. Concrete, an extremely versatile material, allows for endless options in design and customization. For this reason The Concrete Network has accompanied each of the 17 design ideas with a detailed photo for reference and to gain inspiration from.
The design tips offer different options and methods for adding color, options for customizing edge details, and how to incorporate decorative embeds like colored glass and keepsakes. Also covered in the tips are ways to creatively incorporate drain boards and trivets into the overall design of the counter space, along with backsplashes and size options.
Counters can be left to look natural to complement materials like wood, stone, and brick or can be treated with coatings that mimic popular materials like marble, granite, and limestone.
Visit The Concrete Network to view the complete slideshow detailing all 17 concrete countertop design ideas.
Established in 1999, The Concrete Network's purpose is to educate consumers, builders, and contractors on popular decorative techniques and applications. These include stamped concrete, stained concrete floors, concrete countertops, polished concrete, and much more. Over 10 million people visit ConcreteNetwork.com per year to research, get ideas and to find a contractor.
The site excels at connecting buyers with local contractors in their area through its Find a Concrete Contractor service. The service provides visitors with a list of decorative concrete contractors throughout the U.S. and Canada, and is fully searchable by more than 20 types of decorative concrete work in over 200 regional areas throughout North America.
Article photo courtesy of Trueform Concrete in Rockaway, NJ. Attached photos courtesy of Price Concrete Studio in Orlando, FL and DeWulf Concrete in Los Angeles, CA.
###