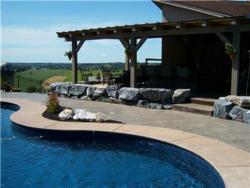 Calimesa, CA (Vocus/PRWEB) April 15, 2011
Rejuvenate new and existing concrete surfaces this spring with new ideas available on ConcreteNetwork.com. Consumers can discover hundreds of concrete design options through extensive articles and photos galleries on the site.
A long way from the smooth, gray surfaces many are used to, concrete has evolved into a modern-day canvas for contractors to create one-of-a-kind works of art. From simplistic broomed and brushed finishes to lavish stamped and colored hardscapes, innovations in concrete now offer a world of possibilities.
Typically considered an outdoor material, consumers in growing numbers, are discovering the many uses and benefits of incorporating concrete indoors also, for floors and countertops. For this reason, it's important that homeowners and builders interested in concrete explore the many options available for new concrete surfaces, as well as existing ones.
The site offers comprehensive concrete design information to guide consumers through general concrete information, options for concrete rejuvenation, a detailed look at decorative concrete applications like stamping, staining, coloring and much more, along with photo galleries featuring hundreds of concrete projects to gain inspiration from.
Visit ConcreteNetwork.com to get full access to a wealth of concrete design ideas, concrete photos and more.
Established in 1999, ConcreteNetwork.com educates consumers, builders, and contractors on popular decorative techniques and applications. These include stamped concrete, stained concrete, concrete countertops, polished concrete, and much more. Over 12 million people visited Concrete Network in 2010 to research, get ideas and to find a contractor.
The site excels at connecting buyers with local concrete contractors through its Find a Contractor service. The service provides visitors with a list of decorative concrete contractors throughout the U.S. and Canada, and is fully searchable by more than 20 types of decorative concrete work in over 200 regional areas throughout North America.
Article photo courtesy of J.P. Havens Contracting in Ephrata, PA. Attached photo courtesy of Split-Rok Construction Co in Pt. Pleasant Beach, NJ.
# # #