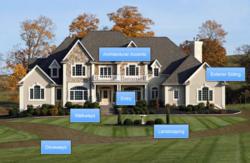 Calimesa, CA (PRWEB) June 09, 2011
Enhance the curb appeal of a home's exteriors with six innovative concrete design options compiled by ConcreteNetwork.com. These six popular options, great for exterior home design and improvement, show how concrete can be applied to various areas of a home's façade transforming the overall character of a home.
Over the years, home builders have started to focus less and less on the exterior design of a home, while putting more emphasis on interior design. Homes are more frequently being designed with little to no exterior character, which can lessen its curb appeal.
Simple upgrades made to exterior siding, entryways, walkways, driveways, landscaping and architectural elements can make a home unique and more alluring. Here are six concrete design possibilities to enhance a lackluster home exterior:
1. For driveways, colors and textures can make a noticeable difference.
2. Walkways can benefit from custom stamped patterns and staining.
3. Landscaping can be accentuated with the use of decorative concrete curbing.
4. Entryways can be more inviting by adding a flight of steps, and adding a decorative finish.
5. Adding architectural accents with precast concrete columns, arches and more can personalize a home.
6. Exterior siding can be enhanced with faux stone and stucco applications made from concrete.
For more design ideas and tips on increasing a home's curb appeal through landscaping, visit LandscapingNetwork.com.
Established in 1999, ConcreteNetwork.com educates consumers, builders, and contractors on popular decorative techniques and applications. These include stamped concrete, stained concrete, concrete countertops, polished concrete, and much more. Over 12 million people visited Concrete Network in 2010 to research, get ideas and to find a contractor.
The site excels at connecting buyers with local concrete contractors through its Find a Contractor service. The service provides visitors with a list of decorative concrete contractors throughout the U.S. and Canada, and is fully searchable by more than 20 types of decorative concrete work in over 200 regional areas throughout North America.
Article photo courtesy of ConcreteNetwork.com. Attached photo courtesy of Decorative Concrete Etc in Tacoma, WA.
###