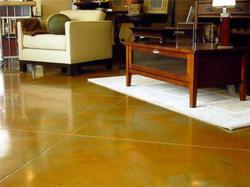 Concrete floors are a growing trend in residential and commercial settings across the country...
Calimesa, CA (PRWEB) November 23, 2011
New design ideas on http://www.ConcreteNetwork.com help consumers decorate interior concrete floors by floor type. The site explores the different options and benefits for using concrete on specific types of interior floors.
Concrete floors are a growing trend in residential and commercial settings across the country as homeowners, business owners and designers look for innovative ways to spruce up indoor spaces. Depending on the location of the floor itself, and other important factors, consumers can now research ConcreteNetwork.com for design ideas by floor type.
The site provides decorative concrete design ideas for kitchen floors, bathroom floors, family rooms, and restaurant and retail floors. Considering how the space is used, the amount of foot traffic, existing décor and lighting, consumers can browse through each floor type for tips on how to personalize floors throughout any house or commercial building.
With techniques like stained concrete, textured overlays, polishing, concrete coloring and more, concrete floors now rival other popular flooring materials like tile and marble. Decorative concrete is the logical choice allowing consumers to reduce costs and improve sustainability, all while maintaining a floor's overall quality and aesthetics.
More decorative concrete flooring options and information can be found at http://www.Concrete-Floors.org.
Article photo courtesy of Crete Décor Inc in Bayou Vista, TX. Attached photo courtesy of Richardson's Concrete Effects in Carmichael, CA.
About ConcreteNetwork.com
Established in 1999, ConcreteNetwork.com educates consumers, builders, and contractors on popular decorative techniques and applications. These include stamped concrete, stained concrete, concrete countertops, polished concrete, and much more. Over 12 million people visited The Concrete Network website in 2010 to research, get ideas, find concrete products, and to find a contractor.
The site connects buyers with local concrete contractors through its Find a Contractor service throughout the U.S. and Canada, and is fully searchable by more than 20 types of decorative concrete work. Through its Find Concrete Products service, the site provides visitors with a list of decorative concrete manufacturers throughout the U.S. and Canada, as well as local decorative concrete supply stores.
###