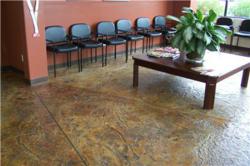 Innovations in decorative concrete are transforming the flooring industry.
Calimesa, CA (PRWEB) December 29, 2011
http://www.ConcreteNetwork.com, the leader in concrete information, reveals five trending decorative concrete options for concrete floors. Great for concrete ideas, consumers can review five unique flooring projects all highlighting one of these unique options.
Concrete floors are tremendously durable and versatile, making them an ideal flooring solution for both residential and commercial settings. With added decorative concrete options, consumers are now able to create custom looks that match any décor style.
Innovations in decorative concrete are transforming the flooring industry, making concrete a material of choice. Ideal for concrete floors, consumers are increasingly taking advantage of these popular applications: stained concrete, stenciled concrete, engraved concrete, concrete overlays, and stamped and textured concrete.
From kitchen and living room floors, to restaurants and hotel lobbies, the site features five projects from around the country for consumers to gain design ideas and inspiration from. Projects highlight the many concrete floor design options mentioned above.
For the latest trends and information on interior concrete floors, visit http://www.Concrete-Floors.org. Find photos, design ideas, and answers to common questions regarding concrete floors.
Article photo courtesy of New Images Concrete Construction in Lakeside, CA. Attached photo courtesy of General Concrete Finishers in Moose Jaw, SK Canada.
About ConcreteNetwork.com
Established in 1999, ConcreteNetwork.com educates consumers, builders, and contractors on popular decorative techniques and applications. These include stamped concrete, stained concrete, concrete countertops, polished concrete, and much more. Over 12 million people visited The Concrete Network website in 2010 to research, get ideas, find concrete products, and to find a contractor.
The site connects buyers with local concrete contractors through its Find a Contractor service throughout the U.S. and Canada, and is fully searchable by more than 20 types of decorative concrete work. Through its Find Concrete Products service, the site provides visitors with a list of decorative concrete manufacturers throughout the U.S. and Canada, as well as local decorative concrete supply stores.
###