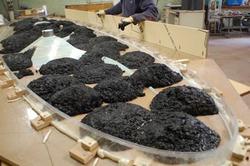 Forms are nothing more than a solid barrier that holds concrete in place…
Calimesa, CA (Vocus) October 8, 2010
Big or small, all concrete projects require the use of concrete forms or molds. New, exciting innovations in concrete forming supplies have led to many advances in the concrete industry. ConcreteNetwork.com, the leader in concrete product information, now offers the latest news, how-to tips and more on concrete forming supplies.
Simply put, "Forms are nothing more than a solid barrier that holds concrete in place…" according to The Concrete Network. Concrete forms and concrete molds allow concrete to be manipulated and worked into almost any shape, from large-scale commercial projects to custom kitchen countertops.
Explore the various types of concrete forms, from wood forms for concrete slabs, to insulated concrete forms for concrete homes, to forms for decorative concrete projects and more. Also, get familiar with smaller, more detailed molds, often used for countertops, sinks and concrete furniture.
No matter what type of form or forming system is used, the most important factor to achieving good results is how the forms are installed. The use of proper forms and installation can have a large impact on the strength and appearance of the finished product. It's important that contractors learn as much about the latest systems available in today's market.
For more in-depth information on how to use concrete forms, choosing the best form for the job, product reviews and much, much more, visit ConcreteNetwork.com.
Established in 1999, The Concrete Network's purpose is to educate consumers, builders, and contractors on popular decorative concrete techniques, applications, and products. This includes concrete stains, equipment, sealers, tools, and materials. Over 11 million people visited ConcreteNetwork.com in 2009 to research, get ideas and to find a contractor.
The site excels at connecting contractors with concrete products suppliers through its Concrete Product Directory Concrete Products service. The service provides visitors with a list of decorative concrete manufacturers throughout the U.S. and Canada, as well as local decorative concrete supply stores.
Article photo courtesy of Stone Soup Concrete in Florence, MA. Attached photo courtesy of Reward Wall Systems in Omaha, NE.
###