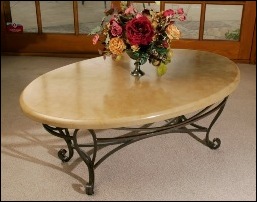 Bringing the beauty and warmth of concrete indoors has been the inspiration of our company
San Diego, CA (PRWEB) December 1, 2006
Design Cast Interior Furnishings (http://www.designcastfurnishings.com) unveils their new line of lightweight concrete furnishings for interior and exterior applications. From exotic colors to natural earth-tones, styles are designed to compliment contemporary and traditional décor.
"Bringing the beauty and warmth of concrete indoors has been the inspiration of our company" says Bob Perrine, owner of DCIF. Starting with a line of occasional tables and dinette tables, their products are scheduled to hit the market in early 2007. They will be marketing to the Fine Furnishings industry and the Hospitality industry. DCIF also is actively pursuing customers that are interested in their own line of custom concrete furniture.
Products are manufactured in a lightweight design and all tables come with handcrafted decorative wrought iron bases. All tops are finished with an industrial sealer for practical application in residential and Hospitality environments. Metal bases are powder coated for interior or exterior use. DCIF has a concrete design mix with physical properties of strength, density, and flexural ability that are three times that of standard concrete.
The company's approach to concrete furniture seems to be quite different. While concrete furniture has been available for years, it typically comes through the precast industry that deals primarily with very heavy products, and a limited range of colors and creativity. Custom fabrication facilities can produce artistic and creative furnishings in concrete, but usually will only produce a handful of each piece. DCIF manufacturing systems are designed for volume runs. Therefore their products can be offered at a much more economical rate, than one would find at a custom fabrication facility.
Why concrete? New and innovative seems to be the look that catches people's attention. While concrete certainly is not new, its ability for creativity and artistic expression has produced a tremendous growth in its use for interior applications. Decorative concrete counter tops and designer concrete floors have grown in popularity over the last few years. It seems that concrete furnishings may be the next step in an industry that is looking for alternative styles.
Design Cast Interior Furnishings is owned by Bob Perrine, who has over 20 years of experience in the design and fabrication of custom precast products.
Contact:
Bob Perrine, Owner
Design Cast Interior Furnishings
619-303-9506
http://www.designcastfurnishings.com
###