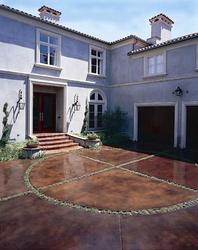 Calimesa, CA (Vocus) July 8, 2010
Typically a heavy season for new construction, the summer months offer ideal weather conditions for new concrete projects. The Concrete Network has updated its concrete pricing information to help consumers with budgeting basics. The site offers a price analysis covering six major factors effecting concrete costs that are often overlooked, along with other helpful budgeting tips.
The six major factors to consider when pricing concrete are: grading, subbase preparation, concrete forms and finishing, reinforcement, and the cost of concrete. Each of these factors must be considered when starting new concrete construction projects and will each add varied amounts to the overall project cost.
Prices given are for plain concrete; the addition of decorative finishes, such as stamped or stained applications will add significantly to the final cost. In considering price, it is important to go for quality and service as concrete done correctly will last for years.
For more information on concrete, including price averages and budgeting tips, visit The Concrete Network.
Established in 1999, The Concrete Network's purpose is to educate consumers, builders, and contractors on popular decorative techniques and applications. These include stamped concrete, stained concrete floors, concrete countertops, polished concrete, and much more. Over 11 million people visited ConcreteNetwork.com in 2009 to research, get ideas and to find a contractor.
The site excels at connecting buyers with local concrete contractors in their area through its Find a Contractor service. The service provides visitors with a list of decorative concrete contractors throughout the U.S. and Canada, and is fully searchable by more than 20 types of decorative concrete work in over 200 regional areas throughout North America.
Article photo courtesy of Kemiko Decorative & Industrial Floor Finishes in Whittier, CA. Attached photo courtesy of Super-Krete in El Cajon, CA.
###