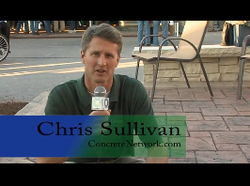 Calimesa, CA (Vocus) July 29, 2010
Every concrete job will require the use of several different concrete products, so it's important to choose the right ones, and there are many to choose from. Explore today's top concrete products with 28 new, product specific videos on ConcreteNetwork.com. From concrete coloring and countertop products, to overlay and sealing products, and more, these videos provide contractors with educational information on various popular products on the market.
The increased number of concrete products on the market can make the process of choosing the right product for a specific project more difficult. These videos aim to inform consumers on what products are available to them, aiding in the purchasing decision.
Split into seven popular product types— coloring, forming, countertops, overlays, polishing, sealing and stamping products, each video includes interviews with manufacturer representatives detailing what the product is, its benefits, how it works, and more.
Furthermore, for those decided on a specific product, the site offers a nationwide directory of manufacturers, suppliers and local stores to aid in the purchase.
For a full archive of these concrete product videos and product reviews visit ConcreteNetwork.com.
Established in 1999, The Concrete Network's purpose is to educate consumers, builders, and contractors on popular decorative concrete techniques, applications, and products. This includes concrete stains, equipment, sealers, tools, and materials. Over 11 million people visited ConcreteNetwork.com in 2009 to research, get ideas and to find a contractor.
The site excels at connecting contractors with concrete products suppliers through its Concrete Product Directory Concrete Products service. The service provides visitors with a list of decorative concrete manufacturers throughout the U.S. and Canada, as well as local decorative concrete supply stores.
###