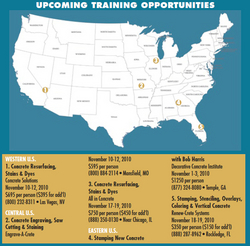 Calimesa, CA (Vocus) September 30, 2010
Thinking of starting a career in decorative concrete? Training events are being held around the United States and Canada featuring today's top concrete products. Including popular training seminars for resurfacing, staining, polishing, concrete countertops and more, ConcreteNetwork.com has compiled an updated list of upcoming trainings and industry events.
ConcreteNetwork.com's training and events section offers detailed information on upcoming training seminars for decorative concrete products by some of the industry's leading manufacturers. Get dates, pricing information, training overviews, and details on how to sign up all in one convenient location.
Training courses cover a variety of decorative concrete applications such as stamped concrete, stained concrete, overlays, concrete countertops, engraving and more, many of which also feature hands-on instruction. Other trainings offered also cover concrete polishing techniques, concrete countertop construction and vertical concrete classes.
Also, stay up-to-date on major industry events from around the country including the World of Concrete in Las Vegas, NV and the Concrete Décor Show in Nashville, TN.
For detailed information on training classes, and a full list of upcoming concrete training opportunities and top industry events, visit ConcreteNetwork.com.
Established in 1999, The Concrete Network's purpose is to educate consumers, builders, and contractors on popular decorative concrete techniques, applications, and products. This includes concrete stains, equipment, sealers, tools, and materials. Over 11 million people visited ConcreteNetwork.com in 2009 to research, get ideas and to find a contractor.
The site excels at connecting contractors with concrete products suppliers through its Concrete Product Directory Concrete Products service. The service provides visitors with a list of decorative concrete manufacturers throughout the U.S. and Canada, as well as local decorative concrete supply stores.
###