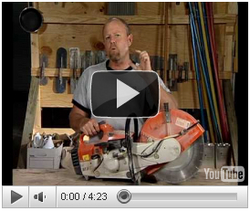 Calimesa, CA (Vocus) September 9, 2010
Product knowledge is the key to choosing the right concrete saw for the job at hand. Whether the need is to cut control joints or decorative scoring, concrete saws come in all shapes and sizes, so picking the right one can become a difficult task. New online videos, provided by The Concrete Network and hosted by industry expert, Bob Harris, explore different saws, engraving tools, and tips on proper use.
Typically four to five minutes in length, videos feature expert Bob Harris demonstrating the use of six different saws and engraving tools. They include Mongoose saws, Barracuda and Shark engravers, Crack-Vac and cut-off saws, and others.
Concrete saws have come a long way from their inception, now allowing contractors to make clean, professional cuts in any concrete surface. They are ideal for cutting control joints to minimize the appearance of cracks, and are now a staple in decorative concrete design.
For more information on concrete saws and blades, and information on over 25 other concrete products, visit the product directory on ConcreteNetwork.com.
Established in 1999, The Concrete Network's purpose is to educate consumers, builders, and contractors on popular decorative concrete techniques, applications, and products. This includes concrete stains, equipment, sealers, tools, and materials. Over 11 million people visited ConcreteNetwork.com in 2009 to research, get ideas and to find a contractor.
The site excels at connecting contractors with concrete products suppliers through its Concrete Product Directory Concrete Products service. The service provides visitors with a list of decorative concrete manufacturers throughout the U.S. and Canada, as well as local decorative concrete supply stores.
###