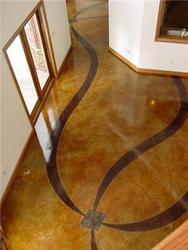 Calimesa, CA (Vocus) November 5, 2010
Need help choosing the best sealer for an upcoming concrete project? ConcreteNetwork.com is offering a free Concrete Sealer Buyer's Guide online to help with this dilemma. This free, printable guide gives concrete contractors extensive information on choosing the right concrete sealer for different types of concrete projects. Information includes a look at sealer types, product comparisons, and frequently asked questions.
Because using the wrong sealer or applying it improperly can ruin beautiful decorative installations, it's important that the right product be chosen. For this reason contractors will find this new guide most helpful with the selection process. Contractors are given a breakdown of today's most popular sealer types, along with a comparison of how these products stack up against one another.
The guide doesn't stop there, however. Contractors will also get a list of vital questions to ask product manufactures when they're determining which product best suits their project needs.
Being that no decorative concrete installation is complete without the application of a sealer, it's important that professionals choose the best product. Offering a host of benefits, the right concrete sealer also offers a final layer of protection that prolongs the life of a decorative application, and enhances overall surface appearance.
For a full, printable version of the Concrete Sealer Buyer's Guide, and more sealer information, visit Concrete Newtork.com.
Established in 1999, The Concrete Network's purpose is to educate consumers, builders, and contractors on popular decorative concrete techniques, applications, and products. This includes concrete stains, equipment, sealers, tools, and materials. Over 11 million people visited ConcreteNetwork.com in 2009 to research, get ideas and to find a contractor.
The site excels at connecting contractors with concrete products suppliers through its Concrete Product Directory Concrete Products service. The service provides visitors with a list of decorative concrete manufacturers throughout the U.S. and Canada, as well as local decorative concrete supply stores.
Article photo courtesy of Cornerstone Concrete Designs in Orrville, OH. Attached photo courtesy of Decorative Concrete Institute in Temple, GA.
###