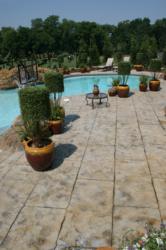 Calimesa, CA (PRWEB) May 06, 2011
As one of the most often used backyard amenities during summer, spruce up new or existing pool decks with stamped concrete. Today's concrete stamps offer consumers a multitude of patterns resembling natural stone, slate, tile, brick and even wood. ConcreteNetwork.com offers A to Z information on the newest products and their uses.
According to ConcreteNetwork.com, compared to its natural counterparts, stamped concrete is much more economical and still capable of achieving a desired look, creating feasible and unique designs on pool decks.
Several manufacturing companies now offer full-lines of stamped patterns to choose from. Some of the most popular patterns include cobblestone, ashlar slate, European fan, sandstone and more. Today's stamp mats produce very realistic results, making it difficult to distinguish between a stamped surface and the pricier paving material it mimics.
When compared to so some of the other popular paving materials, stamped concrete offers a number of other advantages that can't be matched, particularly when it comes to design versatility. This versatility, combined with concrete's longevity and performance advantages, makes stamped concrete a great option for making over new and existing pool decks.
For more information on stamped concrete patterns and sample photos, visit StampedConcrete.org.
Established in 1999, ConcreteNetwork.com educates consumers, builders, and contractors on popular decorative techniques and applications. These include stamped concrete, stained concrete, concrete countertops, polished concrete, and much more. Over 12 million people visited Concrete Network in 2010 to research, get ideas and to find a contractor.
The site excels at connecting buyers with local concrete contractors through its Find a Contractor service. The service provides visitors with a list of decorative concrete contractors throughout the U.S. and Canada, and is fully searchable by more than 20 types of decorative concrete work in over 200 regional areas throughout North America.
Article photo courtesy of Ozark Patterned Concrete in Lowell, AR. Attached photo courtesy of Decorative Coatings and Concrete Company in Aurora, CO.
###