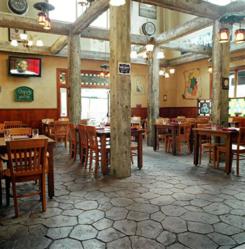 Calimesa, CA (PRWEB) June 17, 2011
Stamped concrete has found its way into many different areas of the home. Innovations in this popular technique have inspired homeowners and contractors to find new uses for the medium indoors. ConcreteNetwork.com, the online leader for concrete information, has released a list of the four most popular uses for concrete stamps in the home.
While consumers are most often used to seeing stamped concrete outside on patios, walkways, driveways, and even public spaces, more and more consumers are discovering the benefits of installing a stamped concrete surface indoors too. Here are four of the most popular interior stamped applications:
1. Entrances, kitchens, family rooms and basements
2. Vertical applications on walls and fireplaces
3. Concrete countertops, bartops and bathroom vanities
4. Existing interior concrete floors using a stampable overlay
Stamped concrete offers the durability of traditional concrete, with the added versatility that decorative concrete applications have to offer. The ability of concrete stamps to produce close replicas of brick, natural stone and even wood makes this technique a viable option for consumers wanting to update their interior spaces this summer.
For a more in depth look into how stamped concrete is being incorporated into homes across the country, visit StampedConcrete.org.
Established in 1999, ConcreteNetwork.com educates consumers, builders, and contractors on popular decorative techniques and applications. These include stamped concrete, stained concrete, concrete countertops, polished concrete, and much more. Over 12 million people visited Concrete Network in 2010 to research, get ideas and to find a contractor.
The site excels at connecting buyers with local concrete contractors through its Find a Contractor service. The service provides visitors with a list of decorative concrete contractors throughout the U.S. and Canada, and is fully searchable by more than 20 types of decorative concrete work in over 200 regional areas throughout North America.
Article photos courtesy of Custom DesignCrete Inc in Crescent, PA.
###