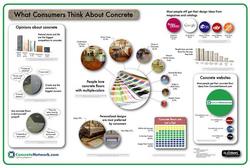 People will seek out concrete as they try to find a flooring material that will last, be easy to clean, be eco-friendly, and allow them the capability to design it the way they want
Calimesa, CA (Vocus) October 14, 2010
A new 2010 Concrete Floor Report developed by ConcreteNetwork.com offers an in-depth look into consumer perceptions about concrete flooring options and opportunities. This first-of-its-kind report reveals exciting results of a recent study on concrete floor trends, including insights on consumer attitudes and perceptions, likes and dislikes, where they garner floor design ideas, how they feel concrete floors compare to other surface materials, and more.
Including a number of statistics regarding concrete floors, this report clearly shows concrete floors are becoming more widely known as a suitable finished surface material for interior commercial and residential spaces. The buzz about concrete's customizable features and benefits continues to spread, attracting more and more people to this established medium.
"People will seek out concrete as they try to find a flooring material that will last, be easy to clean, be eco-friendly, and allow them the capability to design it the way they want," says Khara Dizmon, director of communications for ConcreteNetwork.com. "There aren't many comparable products out there that can claim host to all those benefits wrapped into one, and still be pretty," she says.
Results for the report were gathered from a recent survey administered to current subscribers of ConcreteNetwork.com's consumer email newsletter, The Concrete Quest. There were 454 participants who took part in this eight question survey on consumer thoughts about concrete floors.
For a free, downloadable version of the complete Concrete Floor Report and an in-depth infographic displaying results, visit ConcreteNetwork.com.
Established in 1999, ConcreteNetwork.com educates consumers, builders, and contractors on popular decorative techniques and applications. These include stamped concrete, stained concrete, concrete countertops, polished concrete, and much more. Over 11 million people visited ConcreteNetwork.com in 2009 to research, get ideas and to find a contractor.
The site excels at connecting buyers with local concrete contractors through its Find a Contractor service. The service provides visitors with a list of decorative concrete contractors throughout the U.S. and Canada, and is fully searchable by more than 20 types of decorative concrete work in over 200 regional areas throughout North America.
###