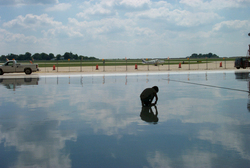 4700 has the unique ability to help prevent out gassing in concrete slabs
Chicago, IL (Vocus) September 15, 2010
Two popular Florock products have just been re-approved for use in aircraft maintenance facilities; this marks the 20th consecutive year of approval by the United States government. Florock's popular epoxy floor coating, Floropoxy 4700, and the durable chemical resistant urethane (CRU) Florothane 250 are ideal products for floor that is exposed to heavy traffic and a variety of chemicals.
The Floropoxy line offers the ease of a self-leveling epoxy floor with the strength to endure the heaviest of traffic, which is why it is one of Florock's most popular products. Available in three kit sizes – four gallon, 20 gallon and 220 gallon – the Floropoxy products can be used on almost any job.
"4700 has the unique ability to help prevent out gassing in concrete slabs," says Florock Technical Manager Tom Lux, "This prevents major delays when installing projects." These traits, along with several others, are why the U.S. military has chosen to use Floropoxy 4700 on bases all over the country.
Ideal for maintenance facilities, hangars and fire stations, Florothane 250 combines ultra violet stability and resistance to the harshest of chemicals with a beautiful gloss finish that is a breeze to maintain. Florock's versatile CRU is pretty as well practical; this popular floor finish is low in VOCs to help your building gain LEED compliance, and the high-gloss finish will help save on energy costs.
Sharon Payne, Sales and Marketing Manager, has been working hard to maintain Florock's long-standing relationship with the military. "Florock products have been manufactured in the U.S. for over 50 years. We have long-term relationships with flooring applicators that have installed in military facilities nationwide."
To locate a contractor or learn more about this popular flooring system call 800-FLOROCK to find a representative near you.
ABOUT FLOROCK® ("Excellence in Polymer Flooring"), MANUFACTURED BY CRAWFORD LABORATORIES, INC. – Serving facilities nationwide, Crawford Laboratories, Inc. is a respected leader in the manufacture, research and development, and installation of solutions-oriented concrete floor coatings and toppings. Independently owned for over 55 years and located in Chicago, Illinois, Crawford Laboratories was founded on the principles of cutting-edge technology, innovation and impeccable integrity.
###