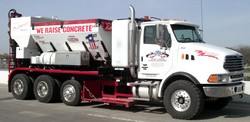 We have done our homework in finding the most technologically - advanced grouting and slab raising operation in the nation today. We see it as a win-win, and are happy to be a part of the CRC Team." Bruce Dickey
Austin, TX (PRWEB) May 27, 2010
Concrete Raising of America, Inc., ranked among the franchising elite by Entrepreneur® Magazine in the concrete repair industry, announced the addition of CRC Concrete Raising of Austin / San Antonio.
"We are very pleased to have established a relationship with Mr. Bruce Dickey and Mr. Neale van Streepen, as we recognize what they have meant to the Greater Metropolitan Area of Austin/San Antonio over the course of time," said Robert Zidar, President of Concrete Raising of America, Inc. The feeling is mutual, as Bruce Dickey, also Owner of Dickey & Son Concrete of Austin and D.H. Foundation of San Antonio states, "We have done our homework in finding the most technologically-advanced grouting and slab raising operation in the nation today. We see it as a win-win, and are happy to be a part of the CRC Team."
CRC Concrete Raising of Austin/ San Antonio is already operational, providing concrete raising and void filling services to settled and hollow concrete in the residential, commercial, industrial, and municipal markets. CRC's unique ability to raise and stabilize settled and hollow concrete provides a direct savings (cost is roughly half of conventional tear-out and replacement) to the property owner, and provides numerous benefits, including but not limited to: immediate access, environmentally friendly, quick, and cost effective, even in terms of not having to re-landscape.
The local CRC operation began its efforts in January, and has completed the required training at the Concrete Raising of America Head Office, and is actively working on jobs varying from driveways and sidewalks to parking lots and interior floors.
About Concrete Raising of America
After raising settled concrete in the greater Milwaukee area since 1947, Concrete Raising Corporation President Robert Zidar founded Concrete Raising of America, Inc., in 1993 and began franchising later that same year.
Headquartered out of the Milwaukee suburb of New Berlin, Wisconsin, Concrete Raising of America has established twenty (20) exclusive territories serviced by franchises throughout the United States. Each franchise owner operates independently, has full responsibility in the success the company, which may be an adjunct to a related concrete business or a stand-alone service venue. In either instance, the various franchises carry the "CRC Concrete Raising Corporation" name and service residential, commercial/industrial, and municipal markets.
Concrete Raising of America prides itself on its proprietary modifications to equipment and operational processes, which allow franchisees the opportunity realize efficiency and productivity levels that far exceed industry standards, while having the ability to calibrate materials.
For more information on Concrete Raising of America or the process of raising settled concrete, visit our websites at : Concrete Raising Corporation or Concrete Raising of Austin / San Antonio.
Contact Information:
Mr. David Adams, Vice President of Marketing
Concrete Raising of America
(800) 270 – 0011, ext. 306
http://www.crc1.com
dadams(at)crc1(dot)com
Mr. Neale van Streepen, General Manager
Concrete Raising of Austin/San Antonio
P.O.Box 81496
Austin, TX 78708
(512) 410 – 7378
http://www.austincrc.com
neale(at)austincrc(dot)com
# # #