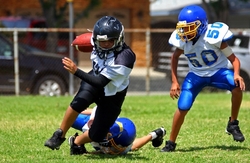 Austin, TX (Vocus) October 1, 2010
In 2010, the Journal of Pediatrics reports that student athlete brain injuries, such as concussions, have increased 70% from 1997-2007. More than one-third of the student basketball players in the same study did not recognize concussion symptoms or report them to their athletic trainers. Physical therapists at Texas Physical Therapy Specialists (TexPTS) have the ability to identify concussion symptoms and recommend critical next steps for student athletes.
Stephania Bell, physical therapist and injury analyst with ESPN, tells TexPTS that physical therapists play an important role in the recognition of concussions in student athletes. All physical therapists who treat athletes can identify concussion symptoms. TexPTS physical therapists are trained to identify concussion symptoms during a patient's initial evaluation, even if the patient is not being treated primarily for a brain injury. Once a concussion is identified TexPTS physical therapists immediately refer patients to the appropriate doctor for further treatment.
Concussions can lead to lifelong symptoms if not identified and treated properly. The New York Times cites a study conducted in 2000 which found that more than 60% of NFL players had suffered from at least one concussion during their career and 26% had three or more. Those who had concussions reported problems with memory, concentration, speech, and headaches. According to the Journal of Pediatrics in 2010, if athletes return to play without proper healing time they can experience staggering neurological injury or even death.
TexPTS is your best first choice for sports injuries and identification of concussion symptoms. Visit texpts.com for more information.
About Texas Physical Therapy Specialists:
Texas Physical Therapy Specialists (TexPTS) is a private physical therapy practice with locations throughout San Antonio, Austin, and Tyler. Known for teaching and training physical therapists all over the U.S., TexPTS physical therapists pride themselves in being spine experts. They deliver hands-on physical therapy based on the newest research to achieve the best results for patients with bad backs, achy joints, wounded hands, and work injuries. Along the way, the TexPTS family has fun and makes friends with their patients (and their pets, their kids, their in-laws, and neighbors.) Perhaps this is why they were voted the Best Private Physical Therapy Practice in the U.S. in 2009, by their peers in the American Physical Therapy Association. For more information visit our website at TexPTS.com or find us on Facebook.
# # #