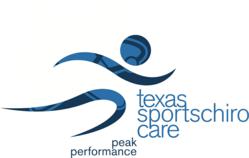 "I'm extremely excited about our expanded concussion program as our team members can now help make objective, informed recommendations about rehabilitation," said Dr. Kelly Ryder, ART, CCSP and founder of Texas SportsChiro Care.
Dallas, Texas (PRWEB) November 27, 2012
Texas SportsChiro Care, Dallas, has been designated a Concussion Health Certified Center. The distinction recognizes that Texas SportsChiro staff members have successfully completed Concussion Health's education and competency-based certification.
Recognizing the growing need to provide enhanced concussion management for athletes, Texas SportsChiro staff members study and research the latest treatment protocols and science as well as invest in the latest technology. For instance, research results suggest balance is one of the three assessment pillars, along with cognitive testing and a symptom checklist for making safe return-to-play decisions following a head injury. Its facility offers balance assessment to establish a reliable baseline of an athlete's balance function. Taking this step prior to a head injury provides objective data about an athlete's balance performance and becomes another tool for a healthcare provider in forming a plan for rehabilitation and return-to-play.
This year, at least one in 10 athletes will suffer a concussion, according to the Centers for Disease Control. Most sports- and recreation-related concussions seen in emergency rooms (65%) occur among youth age 5–18
The Texas SportsChiro Care Approach
The Texas SportsChiro Care philosophy is centered on a passion for athletics and rehabilitation science. Its sports medicine specialty focuses on medical issues that arise out of intense activity. Because the physiology of athletic movement and exercise differs from normal function, so must the diagnosis, treatment and rehabilitation of injuries resulting from it.
"The energies, forces and speeds involved in sports competition and training can cause medical problems and injuries not generally observed in low and moderate activities," said Dr. Kelly Ryder, ART, CCSP and founder of Texas SportChiro Care. "We apply our knowledge and skills to help athletes and exercisers achieve or restore peak physical function. I'm extremely excited about our expanded concussion program as our team members can now help make objective, informed recommendations about rehabilitation."
"Texas SportsChiro Care exemplifies our shared goal of improving the healthcare outcomes of athletes and their families through the use of best practices," said Bridgett Wallace, Concussion Health CEO and co-founder. "As part of our commitment to our partners, we'll provide the Texas SportsChiro Care staff members with a full year of clinical support."
Based on the latest research guidelines and best practice standards regarding concussion management, Concussion Health's online training is designed to meet the educational needs of physicians, chiropractors, athletic trainers, physical therapists, school nurses, and other healthcare providers.
Texas Law
In Texas, Governor Perry signed HB 2038, or Natasha's Law, about a year ago. The law applies to interscholastic athletic activity, including practice and competition, sponsored or sanctioned by a school district, a public school, including a charter school, or the University Interscholastic League. The components include a Concussion Oversight Team, Removal from Play, Waiver and Graded Protocol to Return to Play, Specific Education/Training for all medical providers, and Statewide Tracking/Logging of Concussions.
What is a concussion?
According to the Consensus Statement on Concussion in Sport (Zurich, 2008), a concussion is "a complex pathophysiological process affecting the brain, induced by traumatic biomechanical forces." It is a brain injury caused by a direct blow to the head or other part of the body that results in a rapid movement of the brain within the skull. Whether a bump, blow or jolt, a concussion can interfere with normal brain function that results in common features:

Can be a direct or indirect blow to the head or other part of the body causing "impulsive" forces transmitted to the brain;
Sudden onset of symptoms that, in most cases, gradually disappear with rest — usually within seven to 10 days;
May cause a disturbance in normal brain function but no detectable structural damage (e.g., brain scan with MRI or CT scan);
Typically does not involve a loss of consciousness (less than 10 percent of the time) and symptoms gradually disappear although a small percentage have symptoms that linger, sometimes referred to as "post-concussion syndrome."
About Texas SportsChiro Care
Established in 2006, by Kelly Matthews Ryder DC, ART, CCSP, Texas SportsChiro Care, Dallas, offers patients state-of-the-art equipment and tools that provide effective solutions and faster recovery time. Staff members use a wide variety of proven techniques such as active release, mechanical traction, pneumatic medicine, physiotherapy, balance assessment and electrical stimulation therapy. Its high performance training and rehabilitation helps athletes safely return to play following injury. Learn more at http://www.TexasSportsChiroCare.com.
About Concussion Health
Concussion Health provides online education and tools for concussion management. Through a comprehensive training and certification program, as well as ongoing clinical support, it enables healthcare providers, staff members at hospitals and outpatient clinics, and leaders from sports organizations to successfully provide today's best-practice concussion management services. For more information, visit concussionhealth.com. Follow on Twitter @ConcussHealth