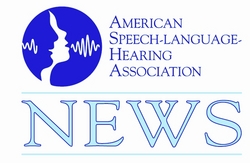 Rockville, MD (Vocus) October 30, 2009
Recently, there have been many news reports on the effects concussions can have on professional athletes, football players in particular, and yesterday a House Judiciary Subcommitte held a hearing on this topic. Speech-language pathologists often help people recover from a concussion or other traumatic brain injury and the American Speech-Language-Hearing Association (ASHA) recently developed a podcast that offers information on concussions in youth sports.
The podcast, geared toward parents whose children play youth sports, features ASHA member Melissa C. Duff, PhD, CCC-SLP, an Assistant Professor in the Department of Communications Disorders at the University of Iowa.
Among the points that Dr. Duff covers are:

Protective advice that parents can give their children before they start playing a sport.
How to handle the aftermath of a concussion. (Currently there is no one set of guidelines universally agreed upon.) Dr. Duff explains that there are many variables to consider such as severity of concussion, number of concussions suffered in one season, age and gender of the injured child, and other circumstances that are particular to the situation.
How neuropsychological testing before a season starts can serve as a baseline for later comparison testing after a concussion has occurred.
How speech-language pathologists can help children who have suffered a concussion.
Read the transcript of and listen to the podcast. Find a speech-language pathologist or audiologist in your area at ProSearch.
About the American Speech-Language-Hearing Association
ASHA is the national professional, scientific, and credentialing association for more than 135,000 audiologists, speech-language pathologists, and speech, language, and hearing scientists. Audiologists specialize in preventing and assessing hearing and balance disorders as well as providing audiologic treatment including hearing aids. Speech-language pathologists identify, assess, and treat speech and language problems including swallowing disorders. Visit http://www.asha.org .
View all ASHA press releases at http://www.asha.org/about/news .
Listen to all ASHA podcasts at http://podcast.asha.org .
###