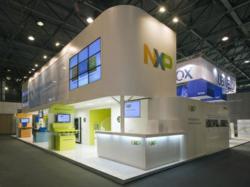 Denver, CO (PRWEB) May 25, 2011
Amid increased demand for cost-effective, double deck trade show exhibit structures, Condit Exhibits and Kinet-X announced a partnership to offer the world's most unique double deck structures to North American markets.
Today marks a new era for Condit Exhibits as the company now offers one of the most unique double deck trade show systems in the world.
Mike McGowan, owner of Condit Exhibits, an industry-leader specializing in the design, fabrication, management, and installation of trade show exhibits, and Shawn Codner, Director at Kinet-X in the United Kingdom, reached their agreement to manufacture and distribute of this one-of-a-kind double deck structure throughout North America.
"Custom double deck structures are expensive and cumbersome to setup, but flexible structures like the Condit and Kinet-X system take double deck exhibits to a completely new level in North America. Products like this will give our customers confidence that we remain the leader in offering innovative, cost-effective solutions," said McGowan.
In the coming years, double deck exhibit structures will become more relevant in trade shows as costs decrease and companies look to increase their overall footprint without adding additional floor space. Industry experts agree that cost-effective double deck structures are a critical evolution in the North American trade show industry.
The Kinet-X double deck exhibit system is taking the industry by storm, providing single, double and triple deck structures across Europe and throughout the Middle East. This flexible exhibit system uses standard elements but can be utilized as a design tool to form custom structures and complex configurations, making it one of the world's most innovative double deck systems. It also offers an eco-friendly advantage as the exhibit system is re-usable, making it a "green" exhibit option.
ABOUT CONDIT EXHIBITS:
Condit Exhibits leverages its international footprint and the insights and experiences developed over its 60-year history to assist global clients with all of their exhibition challenges. By staying on the bleeding edge of the trade show and exhibit industry, Condit Exhibits can design and build multi-dimensional exhibitions, environments, studios, and digital spaces. With locations in Denver, Seattle, Las Vegas, and the United Kingdom, Condit Exhibits specializes in the design, fabrication, management, and installation of trade show exhibits, exhibitions, events, museum exhibits, visitor centers, real estate sales centers, television studio sets, corporate lobbies, kiosks, and three dimensional marketing environments of any kind. For more information, visit the Condit Exhibits website or call +1.800.541.6308
###