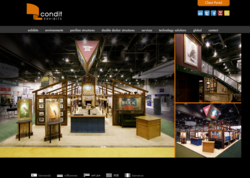 Denver, CO (PRWEB) June 14, 2011
Condit Exhibits announced the launch of a new website showcasing custom exhibit design and construction services and the company's expanding international footprint across Europe, Asia and the Middle East.
The new website offers a variety of informational and educational content focusing on Condit's expertise in custom, rental and portable exhibits for trade shows, museums and even "double decker" structures or pavilions. The site also features content for international exhibits and trade shows customized for clients in French, German, Spanish, Arabic and Mandarin Chinese.
Mike McGowan, owner of Condit Exhibits, said, "The new Condit Exhibits website illustrates our work and the commitment to perfection that has characterized our business for the last 60 years. Our expanding international footprint is reflected in the website's content, and our global network allows us to bring custom exhibits, double decker structures and the industry's most flexible exhibit rental offering to clients across Europe, China and the Middle East. This will give our customers confidence that we remain the leader in offering innovative, cost effective exhibit solutions."
The new Condit Exhibits website will also add to the company's recognized industry authority and expertise. The Condit Exhibits Blog features content specific to the exhibit and trade show space, providing relevant content on best practices, strategy and the evolution of the exhibit industry.
Current clients of Condit Exhibits can continue to access the Client Portal in order to track all exhibit properties and upcoming trade shows. Condit Exhibits is also active within social media, and the site will support those channels with participation and expert exhibit content on LinkedIn, Twitter, Facebook and YouTube.
ABOUT CONDIT EXHIBITS:
Condit Exhibits leverages its international footprint and the insights and experiences developed over its 60-year history to assist global clients with all of their exhibition challenges. By staying on the bleeding edge of the trade show and exhibit industry, Condit Exhibits designs and builds multi-dimensional exhibitions, environments, studios, and digital spaces. All custom, portable and rental displays are designed and fabricated in Condit's own facilities in North America and the UK and shipped to venues around the world. Condit Exhibits specializes in the design, fabrication, management, and installation of trade show exhibits, exhibitions, events, museum exhibits, visitor centers, real estate sales centers, television studio sets, corporate lobbies, kiosks, and three dimensional marketing environments of any kind. For more information, visit Condit Exhibits or call +1.800.541.6308
###