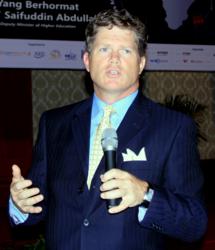 We would not even have had this opportunity for this funding, if Drew and Condition Zebra had not initiated the investigation into the potential for funding a cyber-security program here
Orem, Utah (PRWEB) September 22, 2012
"We would not even have had this opportunity for this funding, if Drew and Condition Zebra had not initiated the investigation into the potential for funding a cyber-security program here," according to UVU Senior Director of Sponsored Programs, Curtis Pendleton. "We had a team of about eight working on the grant, but it was Drew who initiated the opportunity, gathered support from the public sector, and presented our case to the Department of Workforce Services."
"This is a wonderful award that will help move the university forward in the area of cyber security. This is an area we can excel at and make a significant contribution in the state," said the university's Vice President of Academic Affairs, Ian Wilson, in a response to Wednesday's announcement. According to the grant abstract, the funds will support a four-year initiative for the university to implement a Cyber-security Training Program affecting certificate, 2-year, 4-year degrees in the IT and Computing departments as well as providing a training program toward a graduate certificate.
The grant will be for $3,000,000 to be used over a 4-year period, as part of an Displaced Worker Assistance project, sponsored by the Department of Workforce Services.
"We initially approached the university to pursue a grant in this area in response to the National Security Agency constructing what will be the largest secure data center in the world, practically in our back yard," said Williams. "For one of the fastest growing and technologically advanced communities in the nation, this was a perfect match between educational advancement and a need to expand professional programs in cyber security." The highly-classified NSA Cyber-security Initiative Data Center, a $1.5 Billion installation located near Camp Williams, will intercept, store and analyze intelligence data as it is transmitted by both domestic and international networks.
The Utah Valley and I-15 Corridor between Salt Lake City and Provo boasts some of the most noted pioneers in technology (and cyber-security and critical infrastructure development), from the past 25 years, including such organizations as WordPerfect Corporation, Novell, I-Omega, Intel, Micron, Symantec and others.
Drew Williams and co-founder and Asian-based company chairman, Wilson Wong, established Condition Zebra to provide Risk Management and Critical Infrastructure Security solutions that reduce risk to a manageable and resolvable level. Our strategies of combining key technologies with exclusive expertise in risk management and critical infrastructure services help mitigate operational, legal and financial threats to your organization, and create a safe harbor from which our clients can manage risk as part of their daily operations. Condition Zebra also provides post-graduate degree curriculum programs to organizations throughout Asia and Australia.