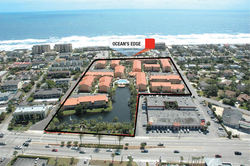 I believe that OREO Corp. chose us for this project because of our vast experience with bankruptcy and bank-owned property auctions of fractured condominiums throughout the country
Jacksonville Beach, FL (PRWEB) February 26, 2009
The Auction is scheduled onsite for March 12th at 11:00 AM - the entire portfolio of 107 units is being offered as one unit of sale (there are 182 units within this luxury condominium community).
According to Lamar Fisher, President and CEO of Fisher Auction Co., Inc. to be a qualified bidder, one must deliver to bank counsel by March 9th, an $800,000 earnest money deposit along with required documents and be prepared to close by April 13th. We have shown several interested investor groups the property thru scheduled previews.
OREO Corp. enlisted the services of Fisher Auction Co., Inc. along with Cushman and Wakefield to market and auction this portfolio. The Developer fell into insolvency trying to cope with rapidly declining condo prices. "I believe that OREO Corp. chose us for this project because of our vast experience with bankruptcy and bank-owned property auctions of fractured condominiums throughout the country" said Fisher.
"This is an absolute remarkable opportunity for investors to take advantage of the current real estate climate and capture this magnificent development." Fisher continued "With marketing conditions having stagnated for the last couple of years, we are looking to move this portfolio, which will benefit both the creditors and the local economic area. No one wants empty units sitting - I believe conditions are setting into place for the real estate market to begin a transition."
For additional auction / preview information or photographs visit the Fisher Auction Website
###